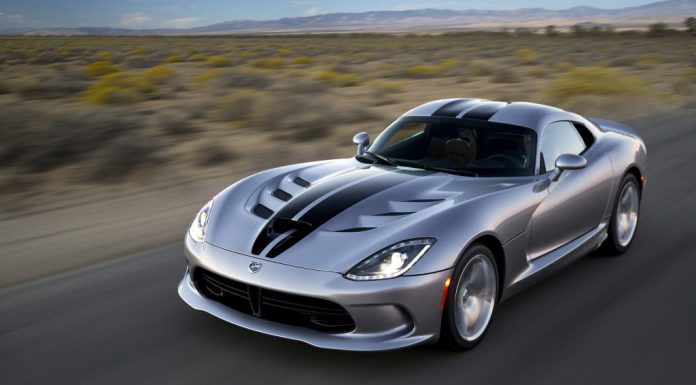 Dodge has just announced that it is slashing the price of the Dodge Viper SRT by $15,000 meaning the American supercar now starts at $84,995.
Adjusted for inflation, that makes the 2015 Viper SRT slightly cheaper than the original first-generation Viper which launched in 1992. The cut has evidently been done to help attract extra Viper buyers following almost stagnant sales with over 600 Vipers unsold and waiting for new homes.
For those that already own a fifth-generation Viper, Dodge will offer a $15,000 voucher to go towards the purchase of a new Viper in addition to the $15k price reduction.
Beyond the price reduction, the 2015 Dodge Viper SRT has received a slight bump in horsepower bringing the total figure to 645 hp, a modest 5 hp gain over the outgoing car. Torque remains the same 600 lb-ft which is certainly no bad thing.
Despite the small horsepower bump, the 2015 Dodge Viper SRT is slightly more fuel efficient on the highway achieving 20 mpg compared to 19 mpg. Elsewhere, the Viper's six-speed manual transmission has been fettled including the implementation of a revised sixth gear ratio.
Changes have also been included on the GT and GTS models. The GTS remains the top-of-the-range car, but the GT now receives a customisable suspension system as well as an improved interior once only available with the GTS.
A new model has also been introduced for 2015. The Dodge Viper GTS Ceramic Blue Edition will be limited to just 40 units and finished in a special bright shade of blue. It also receives orange brake calipers, black wheels along with leather and alcantara throughout the cabin.
The potent track-oriented Viper TA has also been updated with the release of the 2015 Dodge Viper TA 2.0. It produces more downforce than the 2014 model thanks to a new rear wing. Dodge quotes an additional 122 pounds of downforce at 250 km/h over the outgoing model. Elsewhere, the sway bars, brakes, spring rates and dampers have been tuned. The Viper TA 2.0 is available in Competition Blue, Yorange and Venom Black. Just 32 examples of each colour will be made.