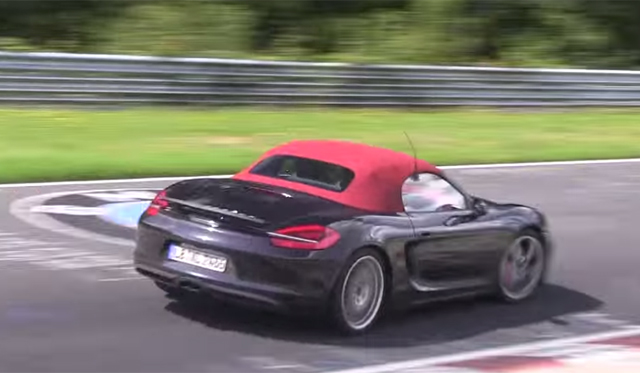 A new set of Porsche Boxster and Cayman prototypes have been spied hitting the Nurburgring and all indications point towards them testing the German marque's new flat four-cylinder engines. After all, Porsche confirmed it was developing such engines just a couple of months ago.
[youtube]https://www.youtube.com/watch?v=YXAibs8hNEM#t=10[/youtube]
While Porsche fanatics may be disappointed that four-cylinder engines will be used in the next Cayman and Boxster, thanks to forced induction and a peak output of up to 395 hp, we think that as soon as you pin the throttle on the next-generation Boxster and Cayman duo, you'll completely forget about the lack of two extra cylinders!
Despite its smaller size, the following spy video shows that the flat-four equipped Porsche Cayman and Boxster models will still sound quite impressive.
This new four-cylinder engine will become just the latest in a long-line of horizontally opposed engines produced by Porsche over the decades and follows on from the four-cylinder engine revealed for the Macan not too long ago.
Porsche is believed to be adopting the smaller engines for a number of reasons with the most pertinent being the resulting reduction in CO2 emissions and improved fuel efficiency. Beyond this, the engines will weigh less than the current units which can only be a good thing for driving!