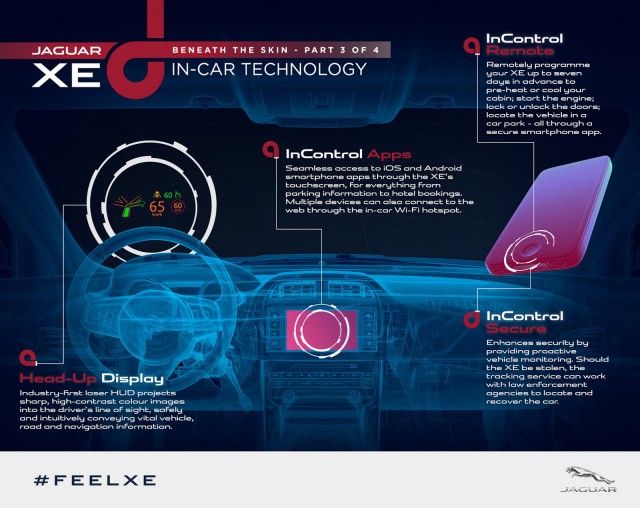 Jaguar is currently hard at work creating its brand new entry-level sedan dubbed the XE. Unlike most manufacturers who simply announce the existence of a new model a few day before it is revealed, Jaguar has been slowly releasing more and more in-depth details about the XE to demonstrate to the world just how capable the car will be.
Now the British automaker has released an exiting video highlighting the dashboard of the Jaguar XE as well as some of the exciting new features which it will utilise. First off, the car will be the first Jaguar to utilise the firm's brand new InControl Touch Infotainment system on an exciting 8-inch screen. Additionally, the InControl Apps are being created which sync iPhones and Android devices to the infotainment system.
[youtube]https://www.youtube.com/watch?v=5vmqx8dMlmQ[/youtube]
Additionally, the Jaguar XE will feature an in-car Wifi hotspot! This will allow multiple devices to access the interior through the fastest mobile connections thanks to the shark fin antenna. Elsewhere, the Jaguar XE features voice control to allow occupants to navigate through the infotainment system by simply speaking. A laser projected, colour head-up display will also be offered for the Jaguar XE and can show things like speed, traffic sign recognition as well as the navigation.
For any audiophiles out there, the Jaguar XE will feature an exciting Meridian audio system to provide the best sound in its class.
Beyond the new technologies, one crucial feature the new XE has adopted is advanced double wishbone front suspension constructed from aluminium and similar to the F-Type sports car. Jaguar claims that this suspension setup means the XE will be as stiff as the XFR. Furthermore, the rear suspension also uses aluminium for much of its construction.
Elsewhere, the Jaguar XE will adopt electric-steering which is quite a talking point of the auto industry at the moment as it generally doesn't provide the same steering feel as hydraulically operated systems. However, Jaguar claims it could "deliver better-quality feel".
On an engine front, we know that the Jaguar XE will come with a 2.0-litre turbocharged petrol and 2.0-litre turbo diesel engine. Elsewhere, reports suggest that the range topping model, possibly called the Jaguar XER-S will feature a supercharged V8 engine delivering a truly brutal 542 hp making it not just an M3 rival, but also an M5 competitor from a performance perspective.