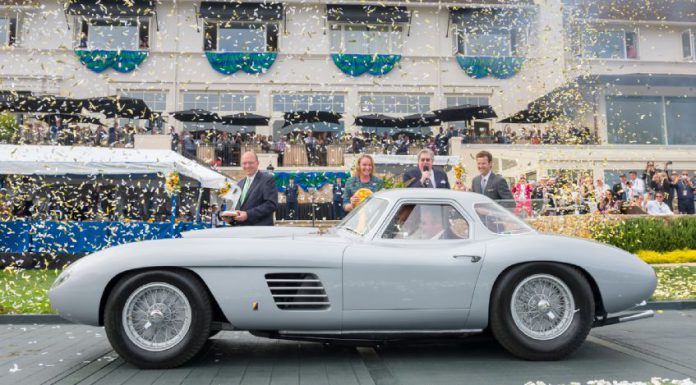 A truly gorgeous 1954 Ferrari 375 MM Scaglietti Coupe walked away with the Best in Show prize at the Pebble Beach Concours d'Elegance 2014. Interestingly, this Ferrari actually re-wrote history as it is the first Ferrari to ever take home the award since the inception of the event in 1950.
The 1954 Ferrari 375 MM Scaglietti Coupe in question is owned by car collector Jon Shirley and is also the first post-war vehicle to receive the award since 1954. Back then, a 1952 Jaguar XK120 was awarded Best in Show at the Pebble Beach Concours d'Elegance.
As you would imagine, this Ferrari would have to be extremely special to receive such an accolade and it is just that. It is a one-off and was originally built for Italian film director Roberto Rossellini. When the vehicle originally left Ferrari's factory, it was one of just five road-legal variants of the successful 375 MM racer. Following an accident however, the extremely expensive and rare Pininfarina body work was damaged.
Not dissuaded, Rossellini decided to have the body entirely customised by Scaglietti. The car was actually the coach-builder's first Ferrari passenger car it had designed.
The car has been in the hands of Shirley since 1995 after it went through two owners in Italy and France respectively after Rosselini. Shirley himself is also no stranger to winning Best in Show at the Pebble Beach Concours d'Elegance as he walked away with the top prize back in 2008 with a 1938 Alfa Romeo 8C 2900B Touring Berlinetta.
During Monterey Car Week 2014, the name Ferrari was on everyone's lips for a number of other reasons. A 1962 Ferrari 250 GTO set a new world record becoming the highest selling vehicle at a public auction after fetching $38.1 million. Additionally, a Ferrari 275 GTB.C Speciale shifted hands for an incredible $26.4 million! If this particular Ferrari is ever sold, it could very well become the most expensive car ever!