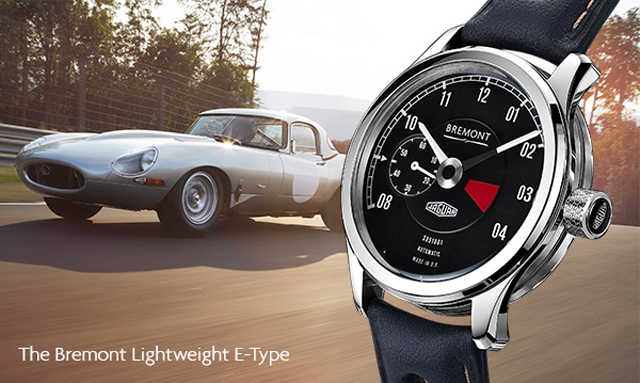 Jaguar has just teamed up with Bremont to create a limited run of six special edition watches to be offered to buyers of the six new Jaguar Lightweight E-Types.
The special watches feature a black face designed to accurately replicate the tachometer of the Jaguar Lightweight E-Type. They also include special hands to mimic the tachometer needle with aluminium saved from the construction of the E-Type Lightweight being used for the white gold cases. Additionally, Bremont has debuted its first proprietary self-winding movement in the watches complete with a 50 hour power reserve and complete with a steering wheel inspired rotor.
Other cool features of the watch includes the winding crown being engraved with the pattern of the Dunlop racing tyres from the Lightweight E-Type with an alloy-spoked replica Lightweight E-Type steering wheel complete with an authentic wooden rim being found at the back of each watch.
Discussing the watch and the collaboration, Jaguar's director of design Ian Callum said, "The Lightweight E-type project is so special that we thought we really needed to create something which complemented the cars and, since most classic enthusiasts also tend to be horophiles, a wristwatch seemed to be the answer.
"Bremont was the obvious choice as a partner, both because we have worked closely together in the past on the clocks for the C-X75 and XJ75 Platinum concept cars and because, like Jaguar, it is a quintessentially British brand.
"We didn't want a watch that was too obvious in terms of design, but something which captured the spirit of the Lightweight in a subtle yet relevant way and I think Bremont has certainly achieved that goal," he said.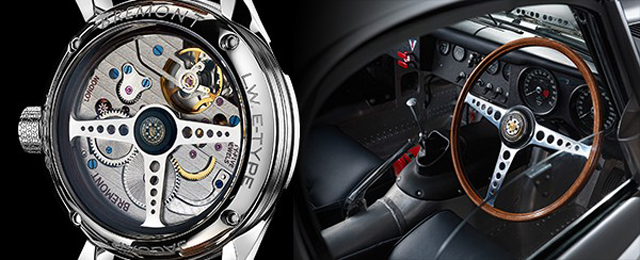 Giles English, who co-founded Bremont in 2002 said, "Creating the watch proved to be a fascinating project, as we were given access to the Jaguar archives in order, for example, to ascertain the exact font for the numerals used on the dial of the original rev counters. The fact that we were required to make just six examples enabled us to be very creative in a way that is not always possible when designing a watch for larger scale production – and that's why we have been able to feature touches such as using real wood for the rim of the 'steering wheel' winding rotor. Each watch is, essentially, bespoke."