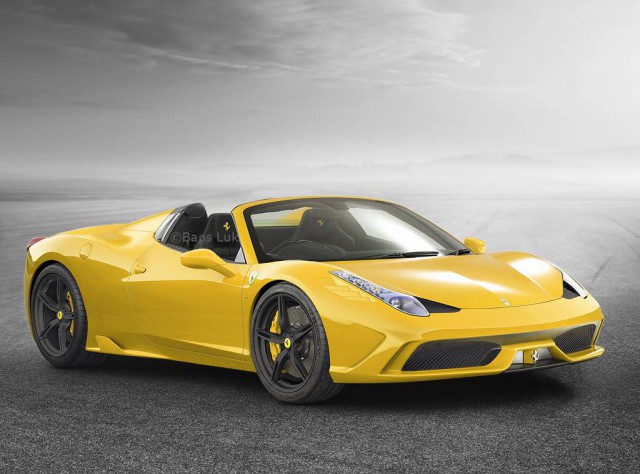 At the weekend's Pebble Beach Concours d'Elegance, Ferrari customers had the exclusive opportunity to check out the Ferrari 458 Speciale Spider. Now it has emerged that the drop-top Ferrari supercar is likely to be limited to just 458 units.
The news comes courtesy of 4WheelsNews who also have a host of new details for the Speciale Spider available. First off all, the car will not be dubbed the Speciale Spider just like the convertible version of the 430 Scuderia wasn't called the 430 Scuderia Spider. While it remains unclear what the convertible 458 Speciale will be called, it will become the fastest production Ferrari convertible until the rumoured LaFerrari Spider arrives.
Elsewhere, the Ferrari 458 Speciale Spider will feature designed racing stripes compared to the coupe and also be available with two different wheel designs. Additionally, new seats are set to be featured alongside a special individualised plaque for each of the 458 units to be produced.
Finally, the 458 Speciale Spider won't have a see-through engine cover like the coupe and instead feature an engine cover and decklid more in keeping with the design of the existing 458 Spider.
Beneath this cover, the Spider will utilise the same uprated 4.5-litre V8 engine as the Speciale coupe. As a result, we expect it to deliver an identical 597 hp at a screaming 9000 rpm and 398 lb-ft of torque at 6000 rpm. As a result of this, the Ferrari 458 Speciale Spider should hit 100 km/h in around the same time as the coupe. That means a sprint of just over 3 seconds before hitting 200 km/h in 9.1 seconds.
The roof of the 458 Speciale Spider will be borrowed from the regular Ferrari 458 Spider which is of course an aluminium hard-top. This roof can be opened and closed in a mere 14 seconds.
At this stage, it seems likely that the car could debut publically at the Paris Motor Show 2014 in October.
[Via 4WheelsNews]