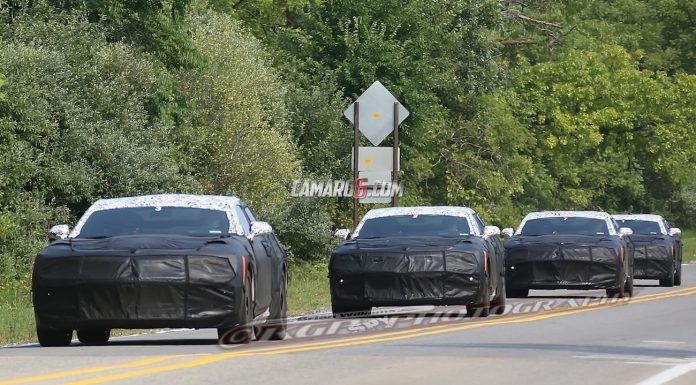 A massive group of 2016 Chevrolet Camaro prototypes have been spied testing out in the United States and according to eyewitnesses, all were high-performance models.
As a matter of fact, each prototype is said to have been V8 powered with no V6 engines or possible four-cylinder Camaro testers in sight.
Despite heavy camouflage, we can tell that the sixth-generation Chevrolet Camaro maintains a similar front-end to the current model. These prototypes also feature a host of vents on the bonnet and a subtle power dome suggesting they could be SS or possibly ZL1 equipped Camaro models.
Elsewhere, the prototypes appear to feature even slimmer side windows and more raked windscreens than the current model with the rear windshield falling down towards a short rear end with a prominent bootlid lip spoiler. Of course, the heavy camouflage across the roof, C-pillars and rear-end of the prototypes make it very difficult to fully ascertain just what we are looking at.
While we don't know a whole deal about the design of the new Camaro thus far, we do know quite a few other key details about it. First off, we know that the 2016 Chevrolet Camaro will utilise the same Alpha architecture of the Cadillac CTS and ATS and ditch the current Zeta platform. Additionally, a 6.2-litre V8 will top out the range.
[Via Camaro6]