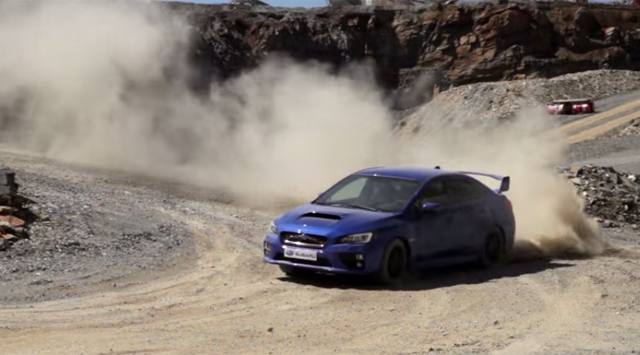 New commercials for both the 2015 Subaru WRX STI and Subaru BRZ have been released with both revolving around gymkhana and the tail happiness of the two impressive Japanese sports cars.
[youtube]https://www.youtube.com/watch?v=D9tTJVT31U8[/youtube]
Both commercials feature the same basic storyline. They show the driver of both the new WRX STI and BRZ discovering he doesn't have the ingredients to create a tasty breakfast for his partner. As a result, some crazy rally driving ensues as he races to get the required ingredients before she wakes. While the story isn't that interesting, the actual driving is very exciting!
Under the hood, the new 2015 Subaru WRX STI is powered by a 2.5-liter turbocharged boxer engine delivering a total of 305 hp at 6,000 rpm and 290 lb-ft of torque at 4,000 rpm. This engine employs the Dual Active Valve Control system and is teamed with a specifically reinforced 6-speed manual transmission. An STI specific short shifter comes standard on the WRX STI Launch Edition.
[youtube]https://www.youtube.com/watch?v=MzjEnxg3GYE#t=209[/youtube]
This power is sent through all four wheels via Subaru's symmetrical all-wheel drive complete with Subaru's new Multi-Mode Driver Controlled Center Differential (DCCD). This transmission features three different automatic modes with each employing varying degrees of center differential locking depending on the driving situation.
Additionally, the 2015 Subaru WRX STI features Active Torque Vectoring which can apply brake pressure to the inside front wheel to result in more neutral cornering. This system works in conjunction with the vehicle dynamics control system offering three settings of 'VDC Normal', 'Traction' and 'Off' (!).