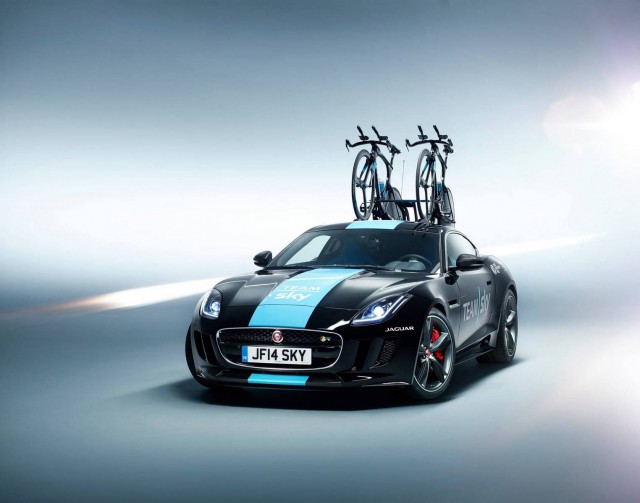 Jaguar have enjoyed a long standing relationship with Team Sky. To celebrate, Jaguar's new Special Vehicle Operations has created a bespoke Jaguar F-Type Coupe. The unique F-Type is designed to carry the team's Pinarello Bolide TT bikes and has been designed in the black and blue Team Sky livery!
The Jaguar F-Type Coupe will be used by Team Sky for the final week of Le Tour De France. The British team also uses a fleet of Jaguar XFR-S Sportbrake team cars, so the F-Type Coupe will fit in perfectly.
The car features a new racking solution, which carries two of the team's Pinarello Bolide TT bikes above the rear hatch. The F-Type Coupe also gets a separate electric supply in the boot which provides power to the radios, amplifiers, microphones, horns and televisions which support communications between Team Sky's Sports Director and the rider.
Jaguar have confirmed that just one of these cars will be made. It is built upon the platform of the Jaguar F-Type R Coupe which features a fantastic 5.0 litre V8 packing 550 hp. The F-Type R Coupe is capable of a 0 to 60 mph time of just 4.0 seconds and an electronically limited top speed of 186 mph.