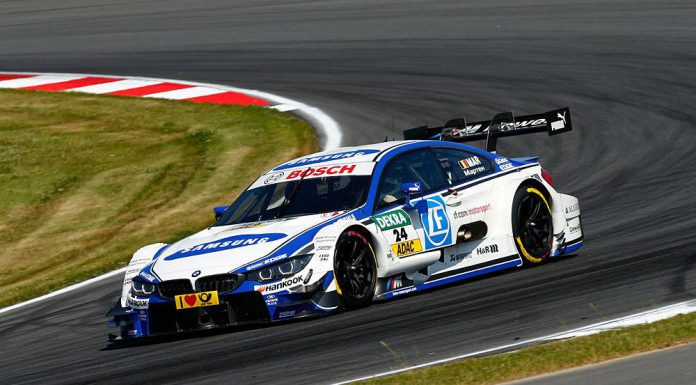 BMW scored a one-two win in the fifth round of the DTM 2014 season at the Moscow Raceway. Rookie Maxime Martin claimed his first pole position the previous day and went ahead to claim his maiden win in his five DTM races driving a Samsung BMW M4 DTM. Bruno Spengler claimed his first podium finish this season by finishing second. Audi driver Mattias Ekström finished in third place.
Lap one had a lot of overtaking with Martin still in the lead while Spengler, Müller and Rockenfeller were fighting for a fixed position. By the end of lap three, Martin had a 1.7 seconds lead over Spengler, Müller, Tambay, Wittmann, Ekström, Rockenfeller, Glock, Farfus and Vietoris. Muller and Glock were fighting for sixth place on Lap 12 when Glock used a hard manoeuvre to overtake Muller, as a result Race Control demanded that Glock hand back the sixth position to Muller.
For BMW Team RMG, this was their third win out of the five races so far, the other two victories came from Marco Wittmann. Wittmann finished in fourth this weekend to extend his lead in the drivers' standings. Nico Muller drove his Audi RS5 DTM across the finish line in fifth to round off the top five finishes. Timo Glock finished in sixth with the MTEK BMW M4 ahead of the best placed Mercedes driver of the day- Christian Vietoris. Wehrlein, Mortara and Farfus finished in eighth, ninth and tenth respectively.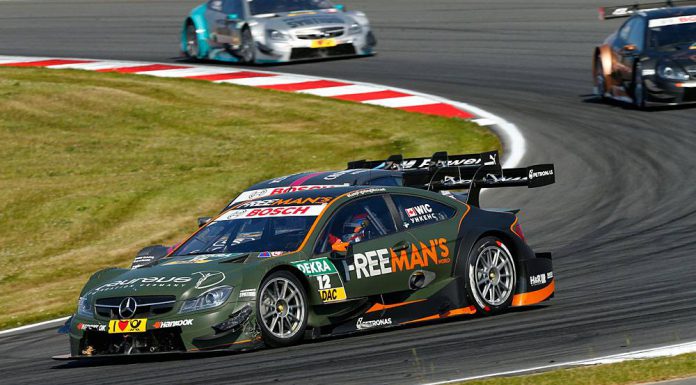 Jens Marquardt (BMW Motorsport Director) said:
That was a fantastic race for us – the most successful of the season so far. Maxime Martin produced a dominant display and a magnificent race against a great backdrop and in only his fifth race in the DTM. He was simply unbeatable this weekend. Bruno Spengler also put in a very strong performance to finish just behind him. Despite the fact that it was, at times, hard to keep track of what was going on, this one-two was never in doubt. I feel sorry for Timo Glock: a problem with the fuel pressure meant he dropped back to sixth place shortly before the end of what had been a great race for him. Marco Wittmann also scored a lot of points and extended his lead in the Drivers' Championship. Augusto Farfus rounded off a good result for us in tenth place. We once again leave Moscow very happy and are now looking forward to Spielberg – and we obviously have our fingers crossed for the German national team tonight.