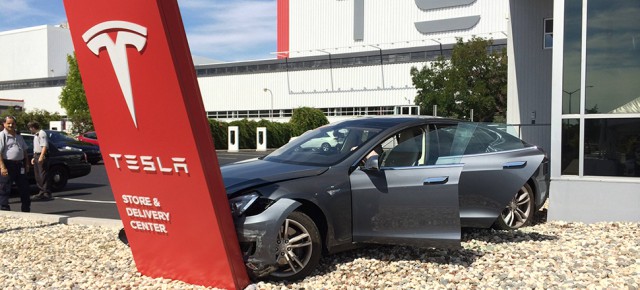 Cars crash all the time. It doesn't matter what manufacturer it is, you can be guaranteed at least one of their cars will crash. And when a car like the Tesla Model S crashes, considering how important the car is for the future of motoring, it understandably grabs people's attention. As for this particular crash, it caught our eye for another reason.
As the following image shows, the silver Model S crashed straight into the sign at a Tesla 'store and delivery center' where it is believed the new owner had just taken delivery of the electric sedan!
According to an eyewitness who posted their account on Reddit, the driver was behind the wheel for less than a minute before losing control, missing the showroom glass by just inches before crashing and coming to a rest against the sign.
As the following image shows, the front end of the Model S has been quite severely damaged with some minor scratches likely to have been sustained across the car and underneath due to all the rocks.
For all intents and purposes, Tesla Motors is doing very well as a start-up automaker in the U.S. If hypothetically it wasn't doing so well, this image could have been very, very embarrassing.
[via Jalopnik]