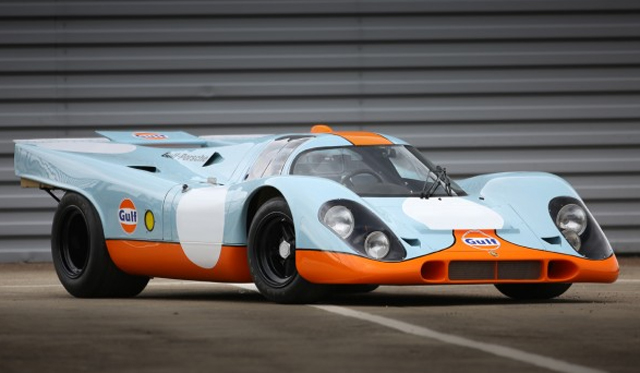 A stunning 1969 Porsche 917K, chassis 917-024, is set to go under the hammer at the 2014 Gooding and Company Pebble Beach Auction from August 16-17th in Pebble Beach, California.
This particular Porsche 917K features an iconic Gulf livery and stared in the film Le Mans which of course featured Steve McQueen as well. The Porsche 917K was originally produced by Porsche specifically to take victory at the 24 Hours of Le Mans and this particular example was the very first 917 to compete in a race when it raced at Spa Francorchamps in 1969 as an official Porsche works car.
Soon after a 1970 Le Mans testing session, Porsche factory driver Jo Siffert managed to acquire the car and loaned it to Solar Productions for Le Mans in 1971. Following Siffert's death where this 1969 Porsche 917K led the funeral procession, it was sold to a private collector and remained hidden for 25 years.
The car has since been fully restored and is essentially in the same condition it was in back in 1969. It is powered by an impressive flat-12 engine capable of sending the car in Cam Am specification to 100 km/h in just 2.3 seconds, 200 km/h in 5.3 seconds and a top speed of 390 km/h! The highest Le Mans top speed recorded by a Porsche 917 is 362 km/h.
[Via Gooding & Company]