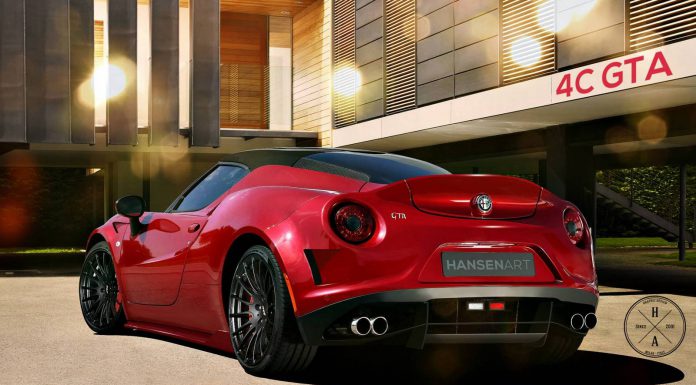 Thanks largely to its overall light weight, carbon fibre monocoque and punchy little 1.75-litre turbocharged four-cylinder engine, the Alfa Romeo 4C has been understandably making headlines all around the world. Additionally, it will be the first new Alfa Romeo to go on sale in the U.S. in the Italian firm's long-awaited return to the market. However, just how good could the 4C be with even more power and eye-catching design elements? Hansen ART has created the following rendering to find out.
Dubbed the Alfa Romeo 4C GTA, the car features a heavily updated tail end incorporating a massive rear diffuser, quad exhaust pipes, larger sports wheels, a black out roof and a prominent ducktail spoiler.
The most exciting thing about this rendering is the fact that it could be previewing an upcoming 4C variant. Not too long ago, Alfa Romeo confirmed that the engine can produce more power and that things like the braking systems can also be improved. Previous reports indicate that such a model could reportedly deliver 266 hp which is 29 hp more than the standard car.
As a reminder, the standard Alfa Romeo 4C certainly isn't a slouch. It features a mid-engined layout, a carbon fiber monocoque chassis (not yet seen in a car of this price), and the Italian firm has confirmed that each horsepower will be pushing only 8.8 pounds. One of the best features about the 4C is that in Europe spec, it tips the scales at just 895 kg. This has been achieved through the use of advanced materials, with one of the most notably weight-saving features being the carbon fiber monocoque which weighs just 65 kg.
[Via Hansen ART]