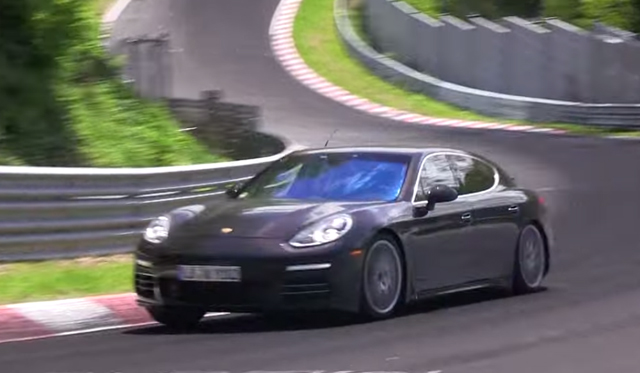 Porsche is currently developing a new range of V6 and V8 powered engines for the next-generation Porsche Panamera sedan. Now prototypes believed to be featuring those engines have been filmed tackling the Nurburgring Nordschleife in Germany for the very first time with the prototypes packing some serious pace!
[youtube]https://www.youtube.com/watch?v=Q3dBdk4ICnI[/youtube]
The new V8 engine will be utilised in the range-topping second-generation Porsche Panamera while the new V6 powerplant will be shared with other companies in the Volkswagen group also set to utilise the new Panamera's MSB platform.
Porsche Panamera Sport Turismo Concept

While this platform will be utilised by a selection of other VW group firms like Bentley, Porsche is leading the development of it.
The MSB platform will feature high-strength steel as well as lightweight aluminium and will help the new Panamera on all levels. Interestingly, this new platform will be suitable for use in a possible two-door and drop-top variations of the next generation Panamera adding fuel to speculation that Porsche will diversify the next Panamera. The new MSB platform alone could save 90 kg when compared to the current Panamera.
From a design standpoint, the next Porsche Panamera really is a mystery. Hopefully however, its design will be heavily inspired by the stunning Panamera Sport Turismo Concept revealed back in late 2012.