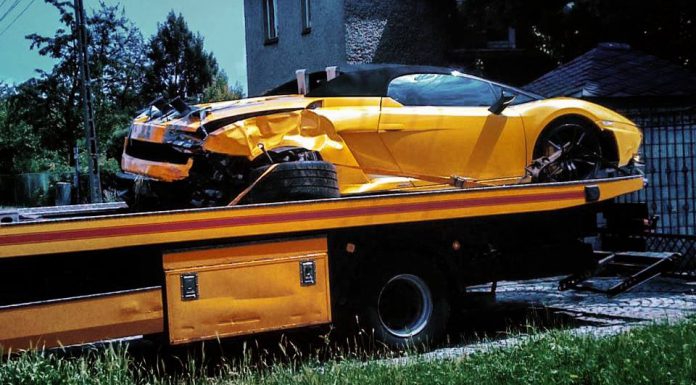 As one of the final special editions of the Gallardo produced, the potent Lamborghini Gallardo LP570-4 Spyder Performante perfectly combines the hardcore driving experience of the regular LP 570-4 Superleggera with the open-top enjoyment of a convertible. However, as with any supercar, when you funnel 570 hp to the road, some driver's simply won't be able to cope with the power just like this one.
While the cause of the crash is unclear, we know that the accident happened in Poland. Based on this image, we can also assume that the car rolled or was at the very least, was very close to rolling because the roll-over guards have been deployed behind the cabin.
Elsewhere, the only thing left from the expensive carbon fibre rear spoiler are the lightweight uprights while the wheels on both sides at the rear have been severely damaged if not torn from the supercar entirely.
Without seeing pictures of the front or the other side of the car, it is hard to say if the insurance company will bother having the car repaired or simply replace it. Either way, there's now one less Performante on the roads.
[Via MarArt]