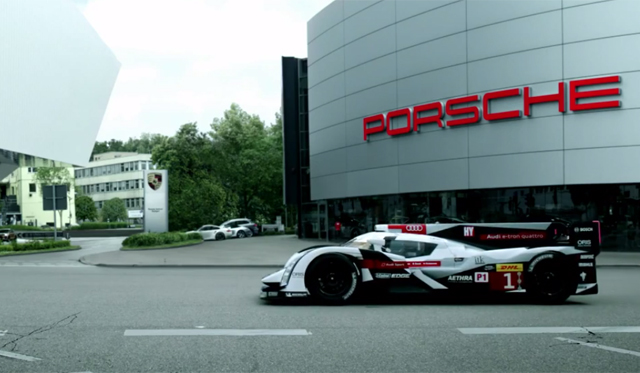 This year, Porsche has returned to the World Endurance Championship with its impressive Porsche 919 Hybrid. With the famous 24 Hours of Le Mans just one week away, Audi has released the following video 'welcoming back' Porsche to the top-echelon of Le Mans racing!
[youtube]https://www.youtube.com/watch?v=_3u_14CXSDg[/youtube]
This year will be the first time in 16 years Porsche has competed in the top competition at the famous endurance race. For the past few years, Audi and Toyota have been the only LMP1 entrants with the Audi R18 e-tron being the reigning champion. However, Porsche is hoping to change that.
The 919 Hybrid is powered by both a four cylinder petrol engine with a V-angle construction and two different energy recovery systems. The petrol engine features direct injection and single turbo-charging; it has a displacement of 2 litres and a maximum engine speed of 9000 rpm. As for the two energy recovery systems, the first one utilizes exhaust gases to recover thermal energy. There is an electric generator that is powered by these exhaust gases.
The second generator is located in the front axle and borrows its concept from the Porsche 918 Spyder. It uses braking phases where kinetic energy is converted into electric energy and stored in water-cooled lithium-ion battery packs. When the electric motor in the front axle drives the front wheels, the petrol engine drives the rear wheels and thus giving the Porsche 919 Hybrid a temporary all-wheel drive system.