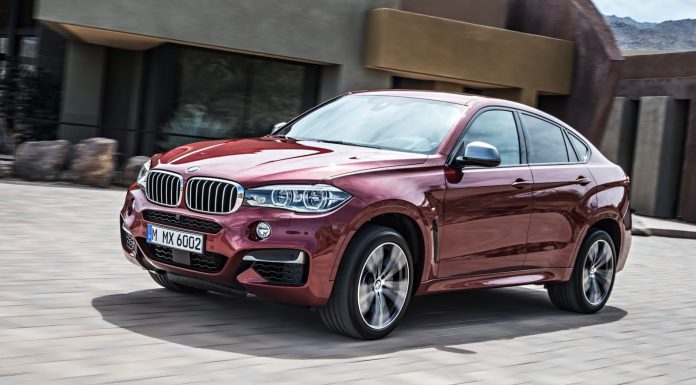 It may have taken a while, but the brand new generation, 2015 BMW X6 has officially been revealed. This is just the second-generation of the X6, but the first-gen car proved so popular alongside the X5, that it was inevitable BMW would reveal an updated variant sooner or later.
Straight away, the visual changes are apparent on the new BMW X6. Generally speaking, the new car maintains a similar profile to the outgoing model with its swooped roofline stretching to the high rear-hatch. However, all the panels are new with those on the side adding a particularly nice sense of purpose and aggression to the 2015 BMW X6.
Elsewhere, the new car receives a revised rear diffuser and bumper while brand new taillights are featured and appear slightly larger and more curvy than those on the current car. The visual changes at the front are just as expected, with a new bumper, tweaks to the front grille as well as modified headlights. All in all, the new 2015 BMW X6 is a fitting replacement from a visual standpoint.
When compared to the current X6, the new one is 32 mm longer, 6 mm wider and 33 mm taller. Importantly however, the wheelbase has remained unchanged with it totalling 2933 mm. Thanks to the extra size of the car, luggage space with the rear seats in place is up by 10 litres to 580 litres while that figure grows to 1525 litres with the rear seats folded in a 40:20:40 configuration. All up, an additional 75 litres of luggage space is available which will be perfect for many X6 owners.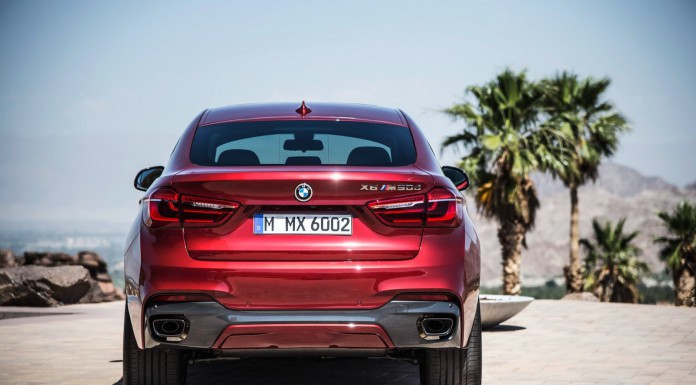 Despite being bigger, the 2015 BMW X6 actually weighs less than the first-gen X6. BMW claims that with identical equipment, it is around 25 kg lighter. Incredibly, the car has a perfect 50:50 weight distribution.
When the new BMW X6 launches later this year, it will initially be offered in three different trim levels. Further down the road, additional variations will be added. The entry-level car is the xDrive30d with it featuring a 3.0-litre straight-six cylinder diesel engine delivering 255 hp. Following the xDrive30d is the tri-turbocharged 3.0-litre inline-six diesel from the M50d. This powertrain delivers 376 hp and more importantly, 740 Nm of torque. Finally, the current range-topping xDrive50i delivers a brutal 443 hp from its 4.4-litre bi-turbo V8 petrol engine. All three of these models come standard in all-wheel drive configuration with an eight-speed automatic gearbox.
Interestingly, a rear-wheel drive version dubbed the sDrive35i will be available in the U.S.