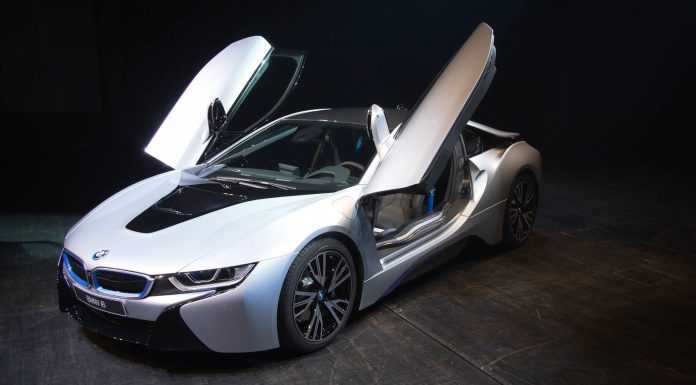 Customer deliveries of BMW's ultra efficient i8 hybrid sports car are underway after the first eight examples were handed over to their new owners during a special ceremony at the BMW Welt in Munich.
Attending the exclusive ceremony was Roland Krüger, Head of Sales in Germany at BMW Group along with Dr. Helmut Schramm, Head of Production of electric vehicles factory in Leipzig. The pair was tasked with handing over the first eight keys to the owners, all of which were from Germany. Before the end of the month, the i8 will have reached all major international markets.
The production-spec i8 was revealed to the public last year at the Frankfurt auto show with production commencing in April. Powering it is a 1.5-liter three-cylinder TwinPower Turbo petrol engine, good for 231 horsepower and 320 Nm of torque, in addition to a 130 hp electric motor. The petrol engine sends power to the rear wheels through a six-speed automatic gearbox, while the electric motor turns the front wheels through a two-stage transmission. The combo is good for 362 hp and 570 Nm of torque, 0-100 km/h in 4.4 seconds and most importantly, up to 113 miles per gallon.