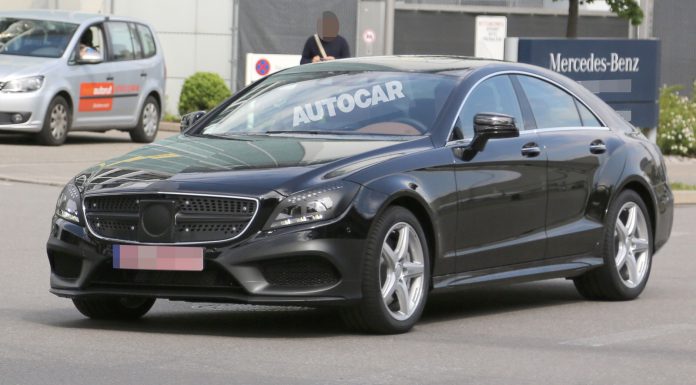 Prior to its expected worldwide debut at the Goodwood Festival of Speed 2014, the facelifted Mercedes-Benz CLS has been spied testing with minimal camouflage.
While this particular prototype is a non-AMG model, it is still quite aggressive thanks to the sharp new front and rear bumpers. While the front grille installed appears to be simply for testing purposes, we can also expect some changes there for when the facelifted model is revealed at the end of this month.
Recent reports have pointed towards the new CLS sedan debuting alongside the new Shooting Brake variant. While this remains to be seen, we will definitely see both in the next few months. Alongside the aforementioned bumper and possible grille changes, the headlights will receive the same Active Multibeam ILS LED technology as the latest S-Class.
In the cabin, the 2015 Mercedes-Benz CLS will feature updates previously seen in the latest models from Mercedes-Benz. Specifically, it will feature the free standing display like the updated A-class, CLA and C-Class as well as an updated version of the COMAND system.
As for different engine options and other variants of the new Mercedes-Benz CLS, we can expect the same as the current car. Consequently, expect to see the base model delivering 201 hp.
By comparison, the range-topping CLS 63 AMG version is set to feature a 5.5-liter twin-turbo 5.5-liter V8 engine producing an impressive 557 hp and 720 Nm of torque. In addition to the standard CLS 63 AMG Shooting Brake model, we can expect to see an S-Model arrive soon after. This slightly upgraded version will feature the same engine but will see power rise to 585 hp and an incredible 800 Nm of torque.