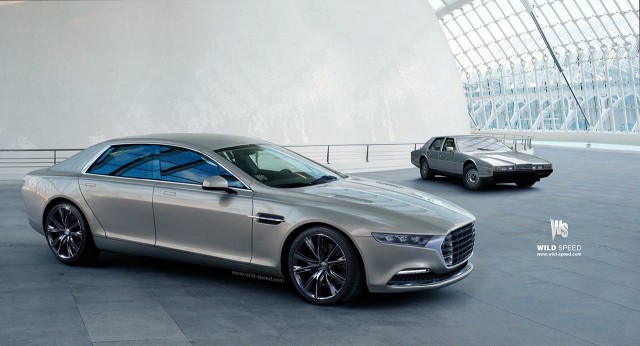 Last week, spy shots emerged of a mysterious Aston Martin prototype testing in the U.K. Believed to be a new luxury sedan set to revive the Lagonda nameplate, this prototype featured a design clearly reminiscent of the original and yet dramatically different from all other Aston Martin's on the market. Now Wildspeed has created the following rendering depicting how the final car could look.
Rendered here with the same overall shape of the prototype, the car features a traditional Aston Martin front grille as well as slim headlights and a prominent lower front bumper section. It has also been imagined with large black wheels and if you look just at the A-pillar, bonnet and wing mirror, it certainly looks like an Aston.
Whereas the front end features more curves, the rear of the car appears to be sharper with prominent C-pillars just like the recently spied prototype.
Beneath the body, the prototype spied testing is reportedly fitted with the same 6.0-litre V12 engine as the Rapide S and all other Astons for that matter except the V8 Vantage. While the engine may not be new, this rather mysterious prototype does feature a longer wheelbase than the Rapide.
It remains unclear when the car will launch and if in fact it will revive the Lagonda name, but it is quite possible the production spec car will feature an AMG sourced forced induction engine.
[Via Wildspeed]