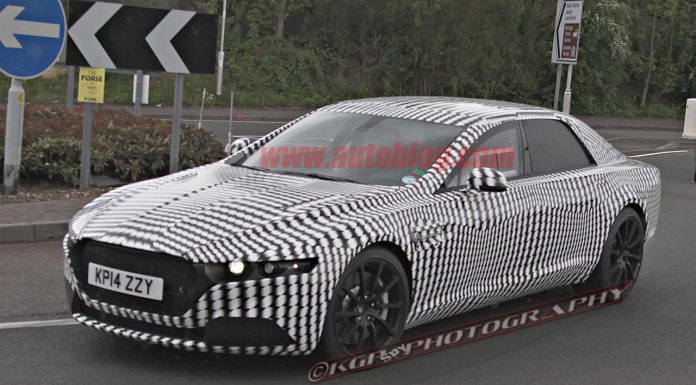 We've known for quite some time now that Aston Martin has been mulling over reviving the Lagonda name for a new luxury SUV. However, spy shots have just emerged reportedly showcasing a new Aston Martin Lagonda sedan testing in the United Kingdom.
From a visual standpoint, this prototype looks like nothing else currently produced by Aston Martin or any other manufacturer for that matter. However, it has emerged that the prototype is registered to Aston Martin and that the car is based on the Aston Martin Rapide S.
Beneath the body, the car is reportedly fitted with the same 6.0-litre V12 engine as the Rapide S and all other Astons for that matter except the V8 Vantage. While the engine may not be new, this rather mysterious prototype does feature a longer wheelbase than the Rapide.
Understandably, further details about the car are limited largely due to the fact that it isn't a car we were expecting. Obviously much of the exposed front end won't make it to production and as for the rest of the body, well it is hard to know.
However, it does feature extremely short overhangs, prominent C-pillars, and an extended rear window unlike the Rapide.
Be sure to stay tuned to GTspirit has more about this car is bound to emerge soon!
[Via Autoblog]