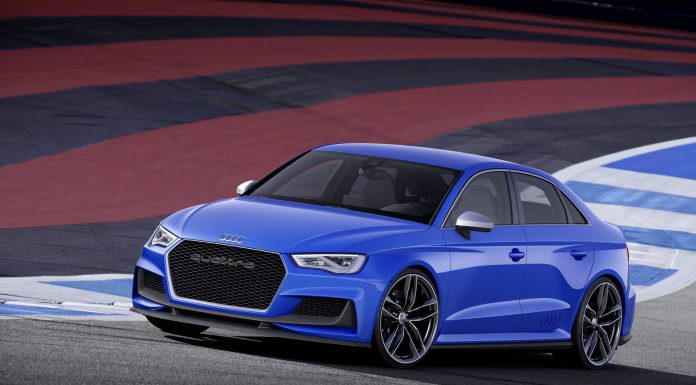 Audi has just unveiled its ultra-aggressive Audi A3 Clubsport Quattro Concept prior to the car's worldwide debut at the annual Worthesee meeting to be held later this month. Based on the Audi S3, the A3 Clubsport Quattro Concept features some serious engine modifications while also adopting an aggressive new look.
Under the hood, the Audi A3 Clubsport Quattro Concept is powered by a potent five-cylinder engine. Audi has managed to tune it up to an incredible 525 hp which means it delivers 211.7 hp per litre. When combined with a total kerb weight of 1527 kg, the Audi A3 Clubsport Quattro Concept has a powered to weight ratio of 2.9 kg/hp. Alongside the massive horsepower figure, the A3 Clubsport also produces 600 Nm of torque available from 2300 to 6000 rpm. Resulting, the car will hit 100 km/h in just 3.6 seconds and a top speed of 310 km/h!
This additional power and performance has been achieved thanks to a larger turbocharger with up to 1.5 bar of relative boost pressure as well as a modified intercooler. Additionally, the car receives a new performance air intake and exhaust system to give it an even more addictive growl than the S3 Sedan.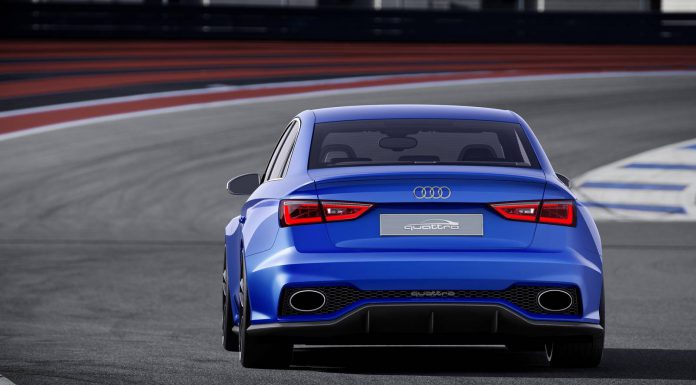 Mated to the engine is a seven-speed S tronic transmission which combines an advanced launch control system to maximise power going through the wheels and to minimise tire slip. Of course, power is sent via all four wheels through the quattro all-wheel drive system.
Other changes found on the Audi A3 Clubsport Quattro Concept include new suspension which drops the ride height by 10 mm. Importantly, the suspension is adjustable to ensure the A3 Clubsport Quattro Concept is perfectly suited to all road and/or track conditions. Just like a racecar, the car features wheels measuring 9.5×21 and tyres with the dimensions of 275/25 R21 at all four corners to ensure maximum grip in all conditions. Braking performance is provided by carbon ceramic brake discs which measure a massive 370 mm at the front.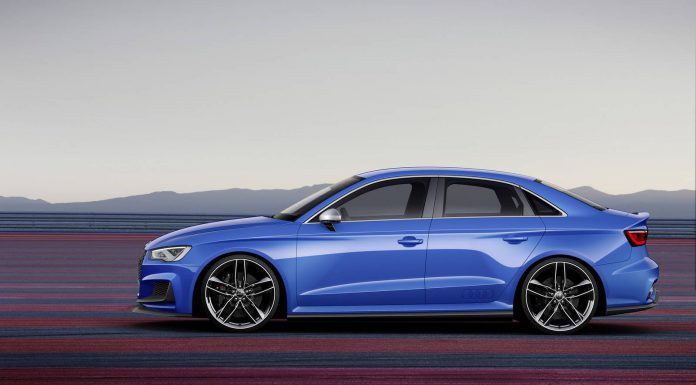 From a visual standpoint, the Audi A3 Clubsport Quattro Concept is finished in a stunning shade dubbed Magnetic Blue. It includes a redesigned front grille, new front splitter and redesigned air intakes. Additionally, the arches have been flared to support the larger wheels while at the rear, a new diffuser is present alongside a redesigned bumper, tailpipes and bootlid spoiler.