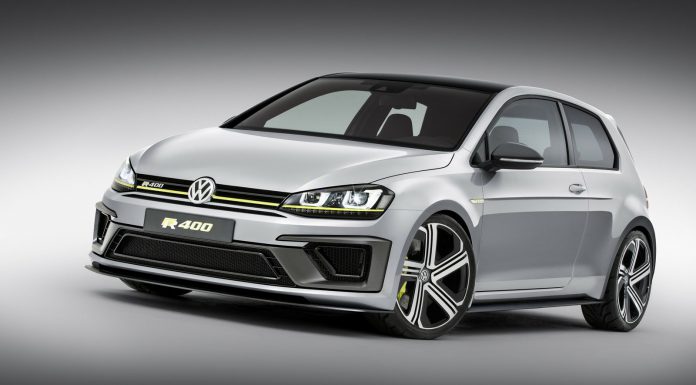 Not too long ago, it was confirmed that the Volkswagen Golf R 400 Concept would make it to production. Understandably, it was assumed that when it reached production, it would deliver the same 400 hp as the original concept car. However, it has now emerged that it could in fact deliver upwards of 400 hp!
While speaking at a recent Vienna Motor Symposium, Volkswagen's research and development chief Heinz-Jakob Neusser said the car could indeed produce more than 400 raging horses. Because Neusser said this alongside Ferdinand Piech and VW CEO Martin Winterkorn, it seems very likely that the German mega-brand will launch the Golf R 400 with more than 400 hp under the hood.
Based on the standard Golf R hatchback, the R 400 Concept shares the same 2.0 litre four-cylinder engine and 4MOTION four-wheel drive system. The Golf R 400 Concept is pumped up considerably with an extra 100 hp and 70 Nm of torque. Full figures are 400 hp together with 450 Nm of torque available from 2,400 to 6,000 rpm.
The concept was developed by Volkswagen R GmbH, the arm responsible for high-power and customisation projects. The extra power of the Golf R 400 helps propel the car, with its six-speed DSG gearbox and 4Motion all-wheel drive system, from rest to 100 km/h in just 3.9 seconds. That's a whole second faster than the Volkswagen Golf R. Top speed is an electronically governed 280 km/h.
[Via Car and Driver]