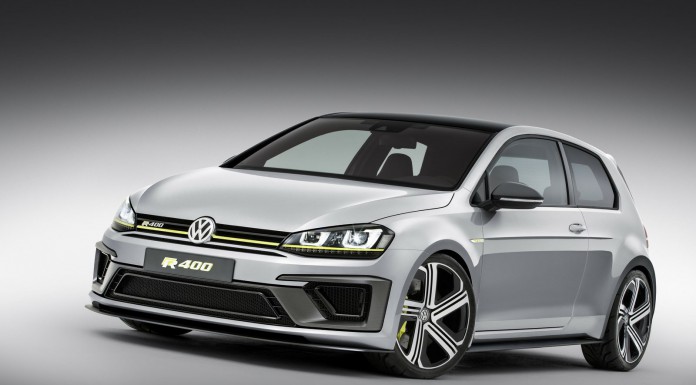 Heading in to the Beijing Motor Show 2014, there was a lot of talk about the possibility of a Volkswagen Golf R Evo debuting at China's premier auto show. Those rumours proved to be quite on the ball as VW revealed the Golf R 400 Concept. Looking very production ready, the Golf R 400 Concept certainly appeared to be just a quick thumbs up from production and according to Car and Driver, that thumbs up has now come!
Car and Driver says that none other than VW research and development chief Heinz-Jakob Neusser confirmed that the insane Volkswagen Golf R 400 Concept will reach the production line. He didn't divulge any further details such as when it could be revealed in production spec, but did confirm that the 2.0-liter four-cylinder turbocharged engine hasn't received many updates from the standard Golf R with the exception of more boost. The EA888 engine "can handle it" said a VW executive.
Based on the standard Golf R hatchback, the R 400 Concept shares the same 2.0 litre four-cylinder engine and 4MOTION four-wheel drive system. The Golf R 400 Concept is pumped up considerably with an extra 100 hp and 70 Nm of torque. Full figures are 400 hp together with 450 Nm of torque available from 2,400 to 6,000 rpm.
The concept was developed by Volkswagen R GmbH, the arm responsible for high-power and customisation projects. The extra power of the Golf R 400 helps propel the car, with its six-speed DSG gearbox, from rest to 100 km/h in just 3.9 seconds. That's a whole second faster than the Volkswagen Golf R. Top speed is an electronically governed 280 km/h.
[Via Car and Driver]