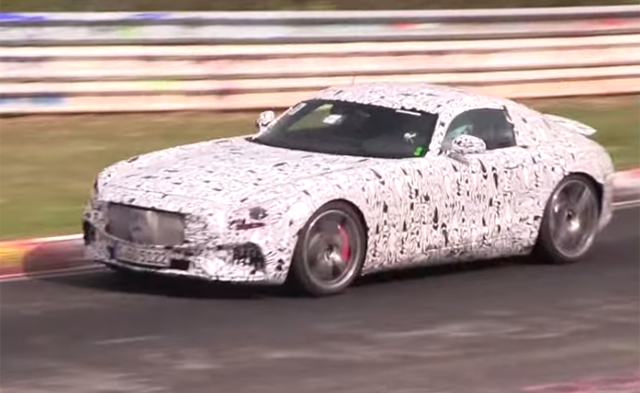 Just recently, Mercedes-Benz confirmed the name of the replacement to the SLS AMG in the form of the 2015 Mercedes-AMG GT. Additionally, the German marque released a couple interior shots of the upcoming sports car. Now, a heavily camouflaged prototype has been spotted testing vigorously at the Nurburgring.
[youtube]https://www.youtube.com/watch?v=AzANwS9_qzc[/youtube]
Just like the SLS AMG it replaces, the Mercedes-AMG GT won't be a track-tuned animal. Instead, it'll be more of an all-round sports car to compete with the Porsche 911. Further down the road, a Black Series variant is expected and that will be more track focused.
2015 Mercedes-AMG GT Spy Shots

A dominant aspect in the cockpit of the GT is the further stylistic development of the central "aviation design" theme which is typical of Mercedes-Benz sports cars. The dashboard places an extreme emphasis on width, creating an impression of a powerful wing. This effect is supported by the four central spotlight-style vents and the individual vents at the left and right ends of the dashboard. The dominant centre console presents a correspondingly dynamic character: its shaping reminiscent of a NACA air intake and the employed materials suggest that it has been adopted directly from motor racing.
The 2015 Mercedes-AMG GT is scheduled for public debut this fall – possibly at the Paris Motor Show 2014 with first customer deliveries starting in the beginning of 2015.