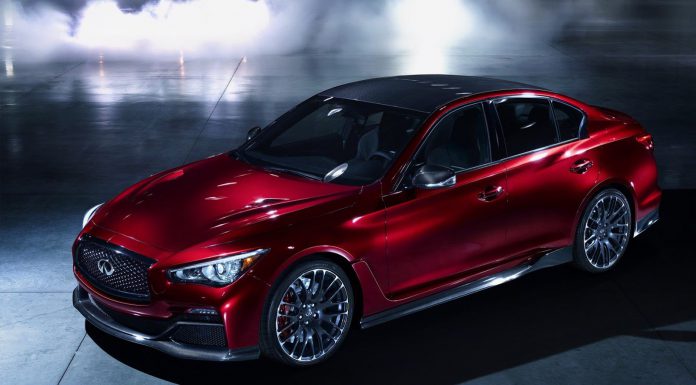 According to an insider, the Infiniti Q50 Eau Rouge Concept first presented earlier this year, will make it to the production line in the very near future.
While speaking with Auto Express, the insider revealed that Infiniti has put so much time and money into developing the Q50 Eau Rouge that it simply wouldn't make sense for it not to hit the streets.
"At this stage it would take more to stop the car getting made than to start things," they said. "There is a real buzz about it."
The most impressive thing about the Q50 Eau Rouge is that it borrows the Nissan GT-Rs twin-turbocharged 3.8-liter six-cylinder engine. It is interesting to point out that this GT-R sourced engine found in the Q50 actually delivers 568 hp and 600 Nm of torque which is more than 'regular' GT-R. This engine is then mated to a 7-speed transmission driving all four wheels. The all-wheel drive system has a constant 50/50 front-to-rear torque split and predictions suggest the Infiniti Q50 Eau Rouge Concept can hit 100 km/h in less than 4 seconds and a top speed of around 290 km/h (180 mph).
Recently, reports also emerged suggesting that Infiniti is planning an even more powerful sedan, to possibly produce upwards of 700 hp!
[Via Auto Express]