Following on from its highly anticipated debut at Geneva, the Koenigsegg One:1 has been unleashed on China at the Beijing Motor Show 2014! Dubbed as the world's first megacar, the One:1 is limited to just six customer units and it is believed at least two of those will call China home. While we've seen the One:1 in the flesh before, its insane styling still blows us away!
The bodywork on this car is something else. At the front, the car features aerodynamic canards and a large front splitter. New vents in the bonnet expel air much quicker and channel it around the roof-mounted air intake. The rear wing is quite frankly absurd! It all helps to produce a total downforce at 260 km/h equal to 610 kg whilst at 440 km/h, the One:1 develops 830 kg of pressure. Active aerodynamics help tweak the downforce to suit the situation.
Koenigsegg retains its own design Koenigsegg aluminium 5.0 litre V8 unit with, 4 valves per cylinder, double overhead camshafts and variable geometry twin turbochargers. Changes over the standard Agera R include a larger bore, up from 91.7 mm to 92 mm. The boost is also increased up to 1.8 bar boost pressure from 1.4 bar boost pressure in the Agera R.
Power figures are truly incredible. The Koenigsegg One:1 delivers a brutal 1,360 hp and revs to 8,250 rpm. Torque is rated at 1371 Nm from 6000 rpm. Total weight is just 1,360 kg which is based on the complete car ready to drive with 50% fuel, 100% fluids and without the driver taken into account. This is a total weight saving of just over 70 kg on the Agera R. As a result, the Koenigsegg One:1 is said to achieve a perfect 1 horsepower to 1 kilogram power to weight ratio.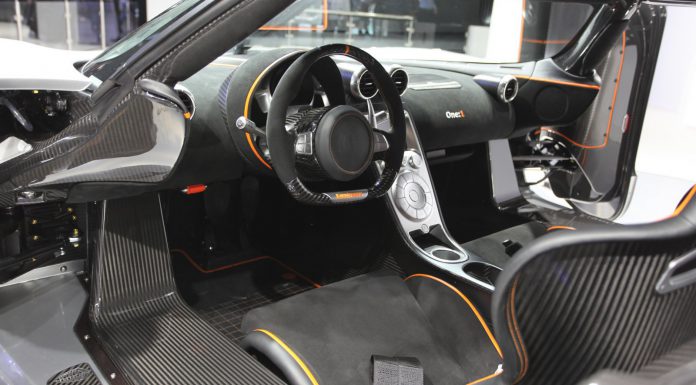 To be blown away further, check out our earlier article about the Koenigsegg One:1. For more information and news from the Beijing Motor Show 2014, take a look at our dedicated news channel!