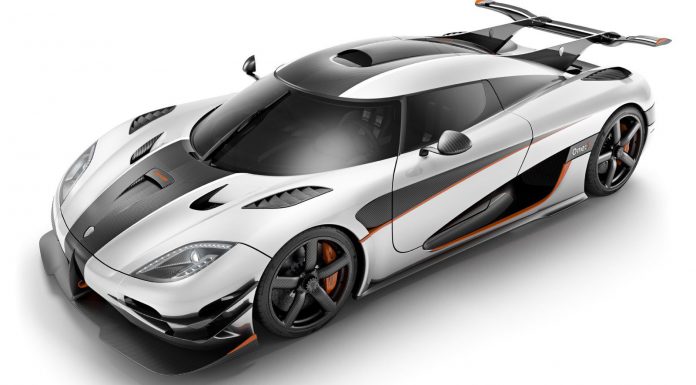 This is the one everyone has been waiting for, the Koenigsegg One:1, destined for the Geneva Motor Show 2014, has now been made official! Koenigsegg released official details of the world's first mega car this morning. The press release is 40 pages long and probably took as long as the car to develop so we're giving you a concise run-down of the salient facts!
To start with, the Swedish company have set out their success in intricate detail. With 5 Guiness World Records to their name, 5 generations of the Koenigsegg philosophy and 100 happy customers, Koenigsegg are taking their platform to a new level with the One:1.
The design incorporates a unique set aerodynamic updates. These include the use of track optimized aero winglets on the front bumper, extended venturi tunnels and side splitters, a Le-Mans inspired active wing configuration at the rear and an optimized active undertrim air management. Large air vents for improve cooling to the engine and a roof air scoop helps to keep the car glued to the ground.
The Koenigsegg One:1 with all its new parts features a drag coefficient of 0.45-0.50 depending on the adaptable rear wings. The total downforce produced at 260 km/h is equal to 610 kg whilst at 440km/h, the One:1 develops 830 kg of pressure. It features a flat underside and venturi tunnels at front and rear of the chassis as well as active aero at the front and rear underside to achieve this. Compared to the Agera R, the One:1 produces almost twice as much downforce at 250 km/h. The One:1 pulls 2G in the corners on road legal tyres.
So, to the engine. Koenigsegg retains its own design Koenigsegg aluminium 5,0 litre V8 unit with, 4 valves per cylinder, double overhead camshafts and variable geometry twin turbochargers. Changes over the standard Agera R include a larger bore, up form 91.7 mm to 92 mm. The boost is also increased up to 1.8 bar boost pressure from 1.4 bar boost pressure in the Agera R.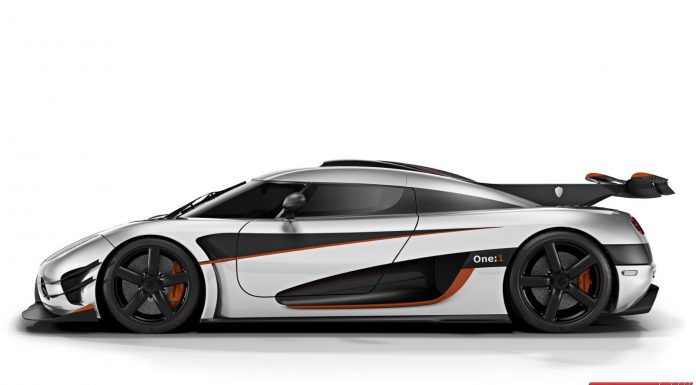 Power figures are truly incredible. Koenigsegg quotes 1 Megawatt of power and an 8,250 rpm rev limit. Torque is rated at 1371 Nm from 6000 rpm. Google tells us this equates to a horsepower figure of 1,341 hp. Despite the upgrades, the engine weighs the same in the One:1. Koenigsegg fit a carbon fibre intake manifold with optimized intake tracts (identical to the Agera R) and the same tig-welded ceramic coated Inconel exhaust system manifold with merge collector except with new light weight exhaust tips. The Koenigsegg One:1's engine takes Koenigsegg's flex fuel philosophy even further as it now runs on E85 biofuel, Racefuel or normal petrol.
Total weight is just 1,360 kg which is based on the complete car ready to drive with 50% fuel, 100% fluids and without the driver taken into account. This is a total weight saving of just over 70 kg on the Agera R. We won't embarrass the Bugatti Veyron by mentioning its weight statistics, needless to say the Koenigsegg One:1 trumps it, and then some. Weight distribution is 44% front, 56% rear which is identical to the Agera R.
The transmission is a 7 speed dual clutch gearbox with an electronic differential included. Koenigsegg have chosen not to release a 0-100 km/h time (quite frankly it would be low enough to almost render it irrelevant!). Instead, they quote a 0 – 400 km/h (around 250 mph) time of approximately 20 seconds and 400 – 0 km/h in approximately 10 seconds. The car is also said to achieve a braking distance of just 28 metres from 100-0 km/h.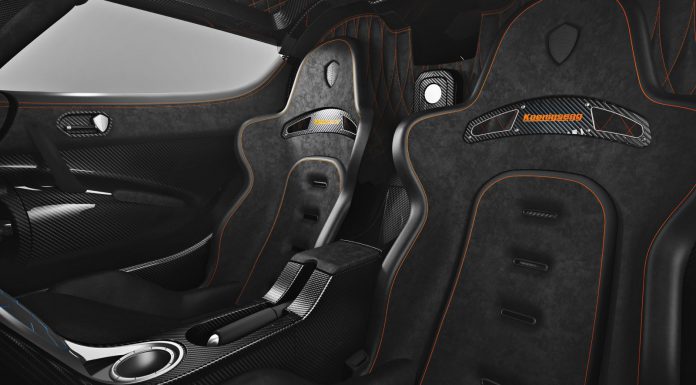 So, a big part of the Koenigsegg One:1 package is the braking system. Both front and rear brakes are carried over from the Agera R, with power assisted ventilated ceramic discs measuring 397 mm in diameter, 40 mm in width and with 6 ceramic piston callipers at the front. At the rear, the One:1 gets ventilated ceramic discs measuring 380 mm in diameter, 34 mm in width and with 4-piston callipers. The traction control comes with 5 different handling modes.
The Koenigsegg One:1 gets upgrade rear triplex suspension with carbon bevel springs and active shock absorbers. The suspension package includes active ride height and shock absorbing and variable stiffness spring ratios. The carbon chassis and bodywork is 20% lighter due to the use of of M46J & M55J high modulus fibres.
To put the power down, custom made Michelin Cup Tires are fitted each corner with a speed rating of 440 km/h. The measure 19 inches and 265/35 at the front and 20 inches and 345/30 at the rear. These measures combine with revolutionary Koenigsegg Aircore carbon fiber wheels, a different design to those Koenigsegg previously released.

Despite the undisclosed price (certainly in the multiple million price range) there are a number of options. These include one piece racing bucket seats, active shock absorber settings, a full clear carbon body, custom body striping, upgraded audio system, painted calipers, personalized logo on rear hood, anodized black aluminium interior, custom leather One:1 custom luggage set, custom diamond encrusted key, titanium exhaust outlet, active noise cancellation, 3G telematics system and the variable turbo geometry.
Only 6 of these cars will leave the factory. The majority are headed to wealthy Chinese customers, although we have been told that two will remain in Europe! This is what the Koenigsegg One:1 looks like then. Any questions or comments, ask away in the comments box and we will try to answer them in our next post from the Geneva Motor Show 2014 next week!