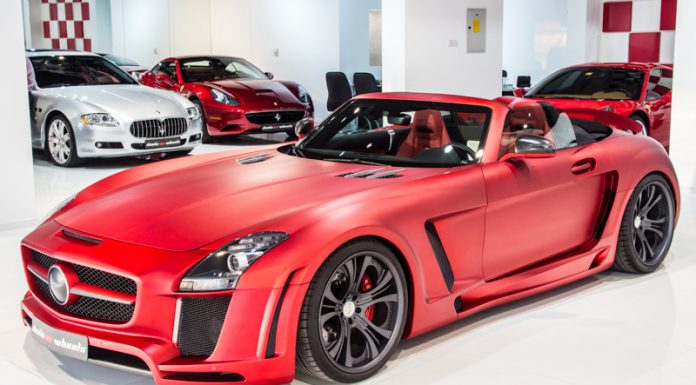 An extremely unique matte red FAB Design Jetstream SLS AMG Roadster is currently up for sale where else but in Dubai! Finished in an identical shade of matte red to the original display car from the Geneva Motor Show 2012, this custom SLS AMG Roadster is one of just a few in the world.
The body kit includes a front bumper with vertically positioned daylight running lights, widened fenders which flow seamlessly down into the sides skirts and then up again into the widened quarter panels. The rear bumper comes with bigger vents and has a diffuser that supports lip spoiler made of carbon fiber. FAB has developed a stainless steel sports exhaust system with an integrated valve control and four classic round pipes, a pair on each side.
In addition to the extensive visual changes, the 6.2-liter naturally-aspirated V8 engine from the standard Mercedes-Benz SLS AMG Roadster has also been modified. Power output has been raised from the standard 563 hp to 607 hp together with 690 Nm at 4,600 rpm. The SLS Jetstream can do a sprint from standstill to 100 km/h in just 3.6 seconds and hits a top speed of 325 km/h.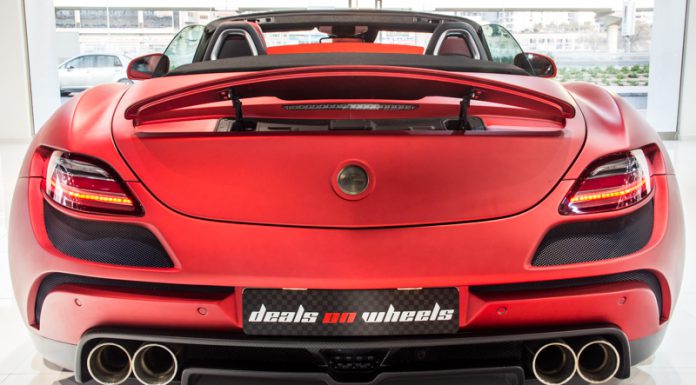 This particular example has covered a mere 500 km and has an asking price of 999,000 AED which is the equivalent of about $271,000 in the U.S.