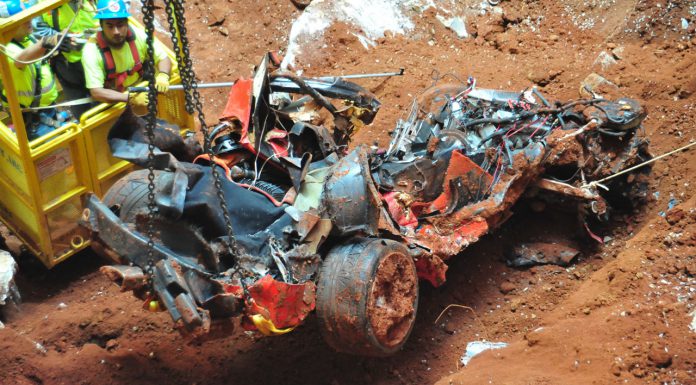 After eight long weeks of work, the final Chevrolet Corvette to be swallowed by the sinkhole at the Naitonal Corvette Museum has been recovered. Unlike the Corvette ZR1 Blue Devil which was relatively unharmed from its fall and was able to be driven away, the final car removed, the 2001 Chevrolet Corvette Mallet Hammer Z06 is completely unrecognisable.
While discussing the state of the Hammer Z06, the man who donated it, Kevin Helmintoller said, "I expected bad, but it's 100 times worse. It looks like a piece of tin foil … and it had a roll cage in it! It makes all the other cars look like they're brand new."
"We're happy to have the completion of our major goal to recover all eight of the Corvettes," said Wendell Strode, Executive Director of the Museum. "Next week we have a meeting with all the major players, including the construction team, geo-technical firm, cave and karst specialists, engineers, our insurance company and others to review all the findings and have discussions on the next steps and a mutual understanding about rebuilding."
[youtube]https://www.youtube.com/watch?v=nWJSDwUUlqk[/youtube]
All eight Corvettes damaged from the sinkhole will go on display at the museum in a special exhibit dubbed Great 8. They will remain there until late August before being completely restored and in the case of the Hammer Z06, rebuilt.