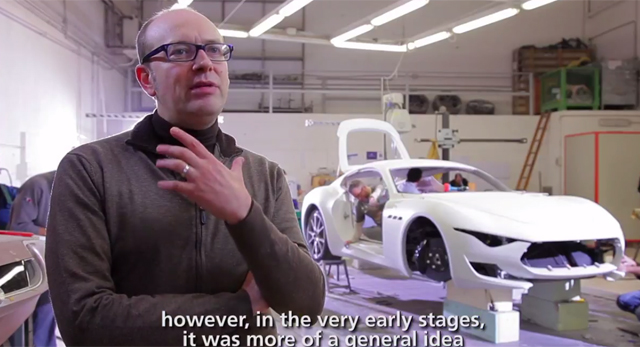 While Maserati has yet to actually confirm if the stunning Alfieri revealed at the Geneva Motor Show 2014 will reach the production line, it is still an incredible looking car more than suitable of helping the Italian firm to celebrate its 100th anniversary.
[youtube]https://www.youtube.com/watch?v=7qfzIcv1q8Q#t=335[/youtube]
As is often the case with Maserati concept cars, the styling of the Alfieri is its highlight. Featuring stunningly flowing lines unlike anything else in the market, the Alfieri really stands out from other Maseratis produced in the last 100 years. Yet despite this, it is still identifiably a Maserati.
In order to give us a better glimpse behind the design of the Maserati Alfieri, the automaker has released the video above!
Based on the Maserati GranTurismo MC Stradale, the Alfieri features a 24 cm shorter wheelbase and measures 4,590 mm long with a 2,700 mm wheelbase, 1,930 mm wide and 1,280 mm high. Under this sleek body is a 4.7-liter naturally aspirated V8 engine developing 460 hp at 7,000 rpm and 520 Nm of torque at 4,750 rpm.
Even though the car hasn't been confirmed for production, Chrysler CEO Sergio Marchionne did reveal that the company does have the capacity to begin production of the car in around 2 years. Importantly, if the Maserati Alfieri does hit the roads sooner rather than later, it will help Maserati achieve its goal of reaching and eventually exceeding 50,000 annual sales.