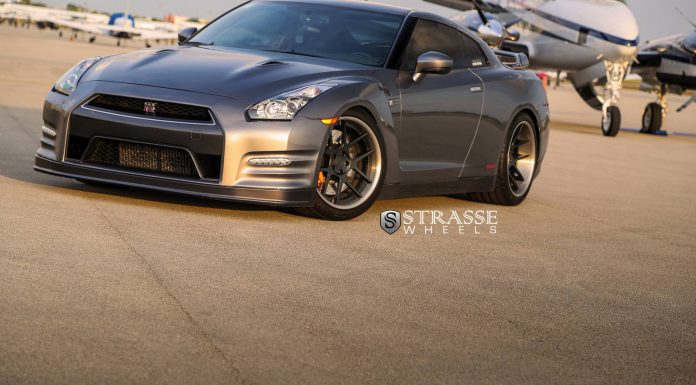 Strasse Wheels has fitted this unique 2013 Nissan GT-R Black Edition with its SM5 Deep Concave wheels. The owner of the car wanted the widest possible wheel setup for the car, opting for 20×10.5 inch front wheels and extremely wide 20×12.5 inch rear wheels. The Strasse SM5 Deep Concave wheels were wrapped in high-performance Michelin Pilot Super Sport tires and are the first of their kind to be fitted to a GT-R.
In addition to the wheels, this GT-R Black Edition has received an extensive array of performance upgrades from renowned American tuning company AMS Performance. You might remember AMS as the company who created the fastest accelerating GT-R in existence, the street legal 1800 horsepower Alpha Omega GT-R.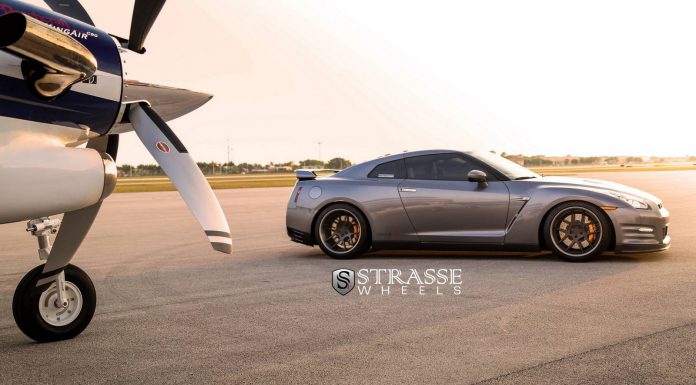 This particular car isn't as fast as the Alpha Omega, but probably wouldn't leave you yearning for more performance. It has had its 3.8 liter twin-turbocharged V6 engine bumped up to around 700 horsepower thanks to Alpha 90 mm down pipes, Alpha 90 mm mid-pipes, 1000 cc fuel injectors, an Alpha intercooler, a COBB Accessport V3 ECU upgrade and an Akrapovic Evolution Titanium exhaust system.