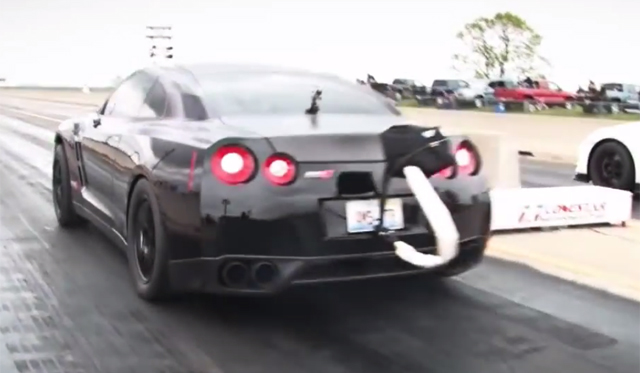 In case you didn't know, the AMS Performance Alpha Omega Nissan GT-R is the quickest accelerating and most powerful road-legal GT-R ever created. While it hasn't been able to reach over 250 mph in the standing mile like a certain Switzer Performance GT-R, top speed is nothing compared to acceleration throughout the entire power range.
The following video takes us behind the scenes of the record-setting Alpha Omega Nissan GT-R and how its 1800 hp at the wheels Nissan GT-R is a truly legendary car in the GT-R tuning scene. What's more amazing is the fact that the Omega GT-R is completely street-legal and capable of more than surviving, but thriving in bumper to bumper traffic.
[youtube]http://www.youtube.com/watch?v=CX3yCiduBqs#t=493[/youtube]
It is the first Nissan GT-R to complete the quarter mile in the 7 second range with a recorded best time of 7.984 seconds at 186 mph. Additionally, during this run, it hit 60 mph in just 1.72 seconds and 60-130 mph in 2.67 seconds. Prior to its most recent runs, the Omega GT-R was the first GT-R to clock eight and nine second quarter mile runs.
The AMS Performance Alpha Omega Nissan GT-R has also been used to test the street ability, performance and durability of the packages the American tuning company offers to customers. Through its development, customers can now order the Alpha 16 package and one full weight GT-R with this pack and owned by a customer recently sprinted down the quarter mile in just 8.11 seconds!