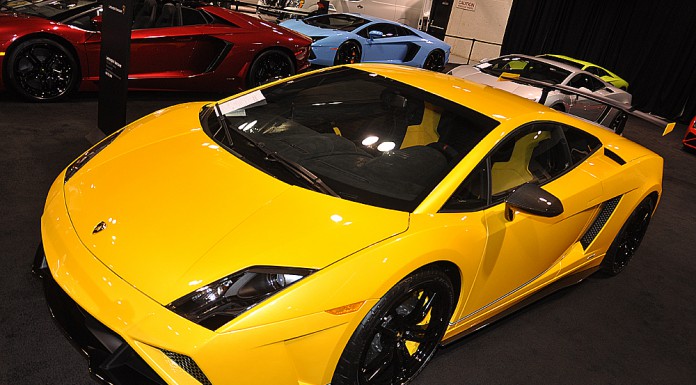 The Lamborghini brand was well-represented at this year's Calgary International Auto and Truck Show. Hailing from Western Canada's only Lamborghini dealership, Lamborghini of Vancouver brought a colourful collection of raging bulls to this year's exhibition.
Featured at the show were variants of the Lamborghini Aventador and Gallardo lineups. A 2014 Lamborghini Gallardo LP570-4 Squadra Corse basked under the spotlights. The brilliant yellow Giallo Midas Squadra Corse is the newest and most extreme model in the Gallardo line-up. Featuring a slightly more powerful variant of the 5.2-liter V10 engine found in the standard LP 560-4 as well as new aerodynamic components, it really is the jewel of the Gallardo range.
Joining the Squadra Corse from the Gallardo lineup was a Grigio Thalasso 2014 Gallardo LP560-4 and a Rosso Andromeda 2013 Gallardo LP560-4 Spyder.
A trio of Aventador LP700-4 Roadsters were shown off at the auto show in a variety of colours. A Verde Ithica Aventador Coupe was joined by a second coupe, which we saw at the Quarry Park & Polish last summer, and a Spyder variant in maroon red.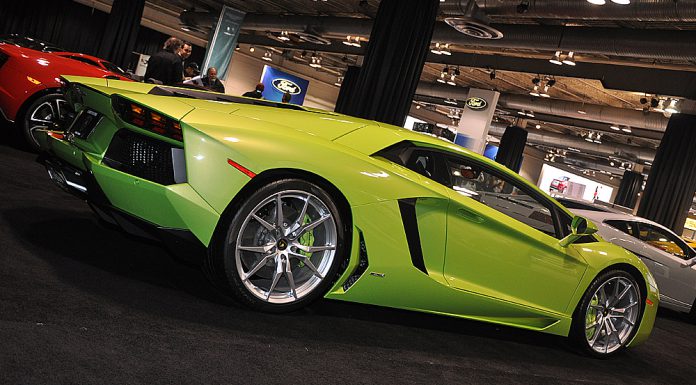 A lone Lotus Evora S, also from Lamborghini of Vancouver, joined the stable, of Lamborghini's at this year's Calgary International Auto and Truck Show.
A new Lamborghini dealership will be opening in Calgary, Canada, later this year. We'll pay them a visit when the showroom opens.