In this absolutely popping shade of orange this Lamborghini Huracán Spyder by VOS Performance simply cannot escape your eyes. The open-top successor of the Gallardo got a full make-over at VOS Performance, who were anxiously waiting to get their hands on one ever since it made its debut at the 2015 Frankfurt Motor Show.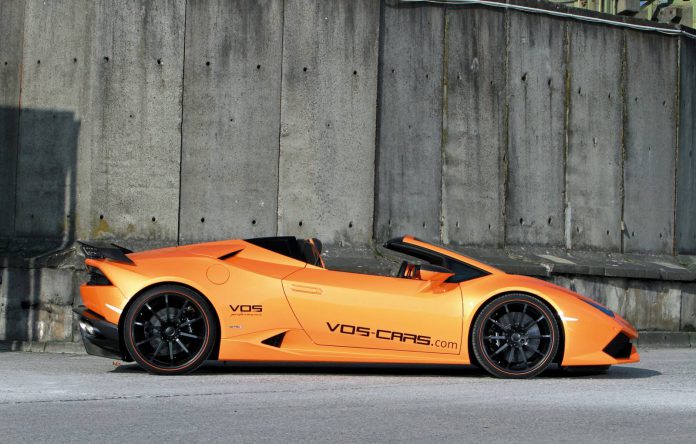 The German tuner is known for its unique carbon fiber components, which rock both the inside and outside of this customized Huracán Spyder. At the front of this angry bull customizations have been kept at a minimum, with just a carbon fiber spoiler lip having been added to the already aggressive front apron.
The tuner took a less conservative approach regarding the rear end of the Spyder, boosting the car's downforce and looks with their 'Pura Vida' fixed wing. For customers wanting more personalization, VOS offers to individualize the carbon inserts in the wing pedestals by adding logos, letterings or coats of arms.
Quality time at the track is guaranteed with the optional installation of VOS' mechanically adjustable 'Torneo' wing. Finishing off the aero pack is a large underbody diffusor at the supercar's rear.
To further enhance the car's looks, details such as the fuel cap and mirror caps have been finished in carbon fiber to match. Also immediately jumping the eye are the large black Mansory V10 alloy wheels with contrasting orange strip to match the car's bodywork. The custom set of wheels measures 20-inch at the front and 21-inch at the rear, shod with the best Michelin or Pirelli rubber on request. Alternatively, a set of LOMA wheels are available with similar dimensions.
The car's eccentric character continues on the inside, with high gloss carbon fiber dominating the center console. The door pulls, air vent nozzles, sill entrance panels, steering wheel inserts and paddle shifters are also finished with the exclusive material. The instrument panel shroud is finished in matt carbon fiber to minimize reflections in the windscreen.
VOS Lamborghini Huracan Spyder
Boosting the naturally aspirated V10 beyond its standard 610 hp is a custom sports exhaust system, saving 10 kg over the standard system increasing performance by 12 hp and 15 Nm as a result. Customers that want to take things a step further can opt for the lightweight Akrapovic titanium exhaust system, which further reduces back pressure and saves 20 kg, increasing performance by 20 hp and 22 Nm respectively.
On the upstream side of things, a free flow filter has been added to enhance ram airflow and reduce induction noise. Handling is improved by the installation of an H&R sport spring kit, which lowers the static ride height by 35 mm inspiring even sharper cornering and high-speed stability. Prospect buyers looking for an even more aggressive front end are asked for a little bit of patience, as VOS Performance is currently working on an entirely custom front bumper matching the Huracán's bigger brother, the Aventador.