ABT have released information on their Golf GTI Clubsport S package which we assume is set to debut at the Geneva Motor Show 2017 next month. The ABT Golf GTI Clubsport S gets performance improvements which make it three times more powerful than the original GTI. Performance, aerodynamic and handling updates should ensure that the ABT Golf GTI Clubsport S is one of the fastest GTI's on offer.
The Volkswagen Golf GTI Clubsport recently debuted with 310 hp and 380 Nm of torque, making it the fastest and most powerful GTI Volkswagen had ever produced. Following its official debut, it took the title for the fastest front-wheel drive on the Nordschleife (7:47.19), cementing its place in Volkswagen folk-lore.
ABT VW Golf GTI Clubsport S
The Clubsport S is evidently able to produce more through its 2.0 litre TFSI. ABT's program for the Clubsport S boosts power by 60 hp up to 370 HP and torque by 80 Nm up to 460 Nm torque, a 20 percent increase overall. Top speed is now increased to 268 km/h. To handle the power better, ABT fir a set of suspension springs and sports anti-roll bars.
Cosmetically, ABT offer a new front grille, headlight covers, mirror caps and a tailgate attachment. In conjunction with the rest of the Volkswagen Golf GTI range, ABT are also able to offer new front spoilers, a set of headlight covers, side skirts and a new read skirt.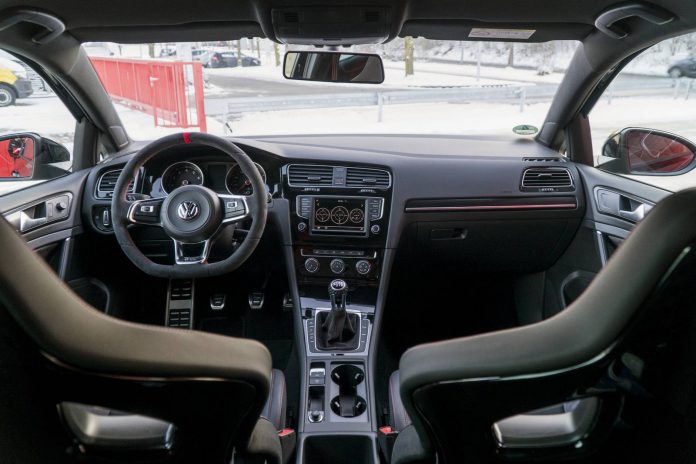 Other items available for the Golf GTI include ABT sport stabilizers, an ABT rear muffler with four end pipes, an ABT down pipe with sport catalyst, ABT braking system with 6-piston-fixed-calipers and 370 x 35 mm discs for the front axle and various ABT sports wheel sets in 18, 19 or 20 inch combinations.