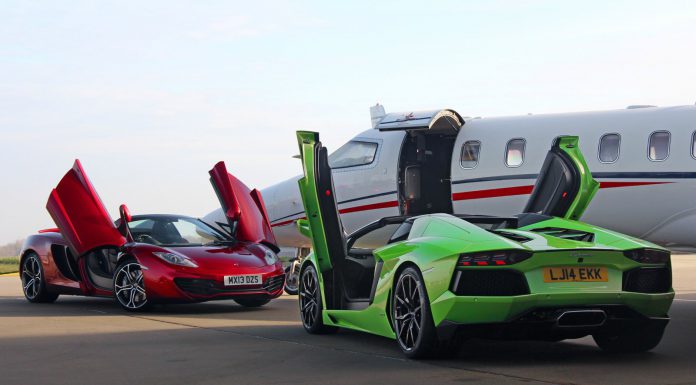 We love nothing more than stunning supercar combinations here at GTspirit and here we have one of the best we have ever seen complete with a private jet! The tenaciously fast McLaren 12C and the jaw-dropping Lamborghini Aventador Roadster were the stars of this shoot. Both of these supercars aim to achieve the same objectives, to be desirable and mind-bendingly fast but in very different ways.
The McLaren 12C is a science project in action, clinical perfection formulated in the same laboratory as many of the components on the British marque's Formula 1 race cars. The Lamborghini Aventador could not be more different. This car is fuelled by adrenalin and passion, a car to assault your senses more than one to attack your local race-track.
The Aventador Roadster features a centrally located, 6.5 liter aspirated V12 generating 700 hp, an ISR seven-speed gearbox and push-rod suspension. It accelerates from 0 to 100 km/h in just 2.9 seconds and has a maximum speed of some 350 km/h. These figures are all similar to those of the coupe that shares the same power plant.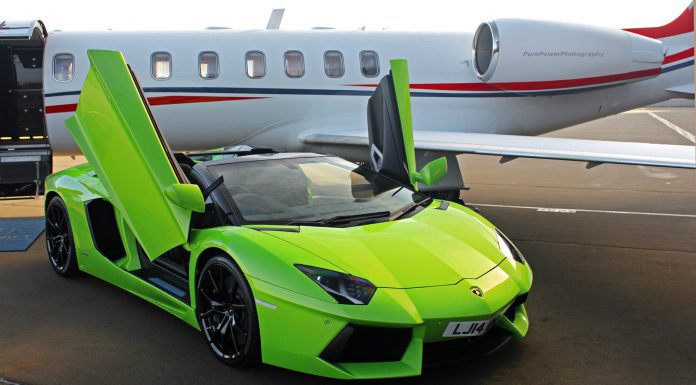 The McLaren 12C Spider on the other hand features the same engine as the 12C coupe. That is a 3.8-liter twin-turbocharged V8 engine delivering 616 hp and 600 Nm of torque. This makes for a zero to 100 km/h time of just 3.1 seconds, exactly the same as the coupe. To 200 km/h it takes nine seconds, which is 0.2 seconds slower than the coupe while top speed is 3 km/h short to the fixed roof 12C at 329 km/h.
These brilliant images were captured at a shoot for Auto Vivendi and taken by Pure Power Photography.