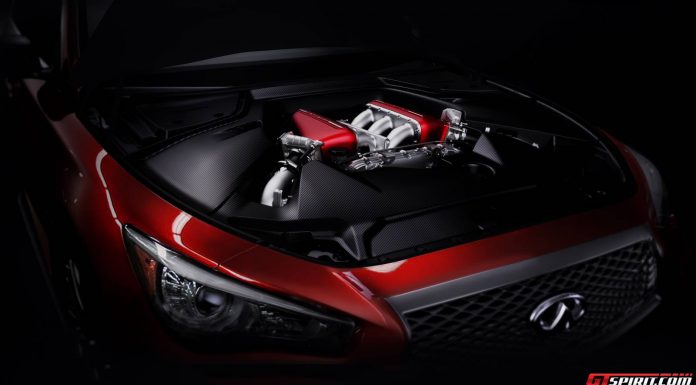 Revealed at the recent Geneva Motor Show 2014 complete with its Nissan GT-R sourced twin-turbocharged 3.8-liter V6 engine, the Infiniti Q50 Eau Rouge Concept is definitely one of the most exciting cars to come out of Nissan's luxury arm ever. That's despite the fact that it has yet to even been given the green light for production.
However, Infiniti has at least confirmed that it is exploring the possibilities of production the car and as Infiniti boss Johan de Nysschen puts it, it is "now an official project". Initially, Infiniti plans to produce one running prototype of the Q50 Eau Rouge to ensure such a car is feasible for road-use and the production line.
Importantly, it has to ensure that the Nissan GT-R engine operates correctly and in keeping with the more luxurious approach of the Q50 Eau Rouge. It is interesting to point out that this GT-R sourced engine found in the Q50 actually delivers 568 hp and 600 Nm of torque which is more than 'regular' GT-R. This engine is then mated to a 7-speed transmission driving all four wheels. The all-wheel drive system has a constant 50/50 front-to-rear torque split and predictions suggest the Infiniti Q50 Eau Rouge Concept can hit 100 km/h in less than 4 seconds and a top speed of around 290 km/h (180 mph).
[Via Autocar]