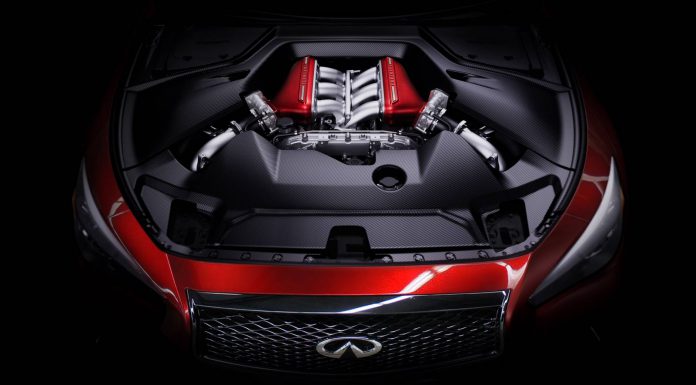 First revealed at the Detroit Motor Show 2014, the Infiniti Q50 Eau Rouge Concept points towards a very exciting, performance-oriented approach from the automaker. At the time, Infiniti remained mum about technical details of the car instead focusing on the Eau Rouge's stunning design. However, at the ongoing Geneva Motor Show 2014, Infiniti has announced just what powers the Q50 Eau Rouge and boy is it impressive.
Under the hood is a twin-turbocharged 3.8-liter V6 engine sharing many similarities to the unit found in the Nissan GT-R. This powertrain delivers a total of 568 hp and 600 Nm of torque and is mated to a 7-speed transmission driving all four wheels. The all-wheel drive system has a constant 50/50 front-to-rear torque split and predictions suggest the Infiniti Q50 Eau Rouge Concept can hit 100 km/h in less than 4 seconds and a top speed of around 290 km/h (180 mph).
When discussing the car and its exciting powertrain, president of Infiniti Motor Company Limited Johan de Nysschen said, "Building on the extremely positive feedback on the Q50 Eau Rouge at its recent Detroit Auto Show launch, we decided to further whet the appetite of performance sports saloon fans by engineering this powerful heart into our blood-red beast.
"A car with such pronounced styling treatments demands the very best in terms of high-performance powertrains, which is why we installed this V6 twin-turbocharged, 7-speed combination as an example of what a potential powertrain for the Q50 Eau Rouge may look and sound like."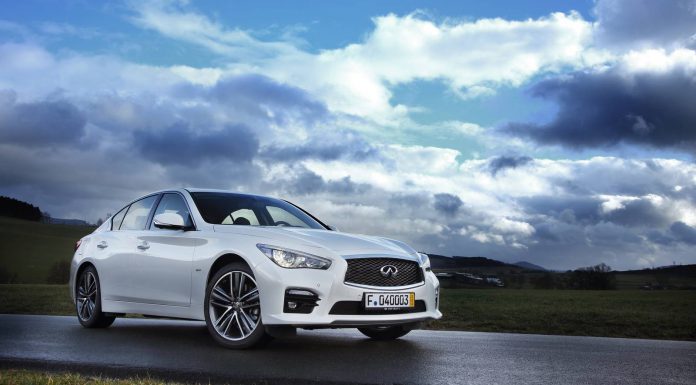 While the car has yet to be confirmed for production, if it does reach dealerships in the future, it'll be in the premier league of super-sports sedans including the BMW M5 and Mercedes-Benz E63 AMG.