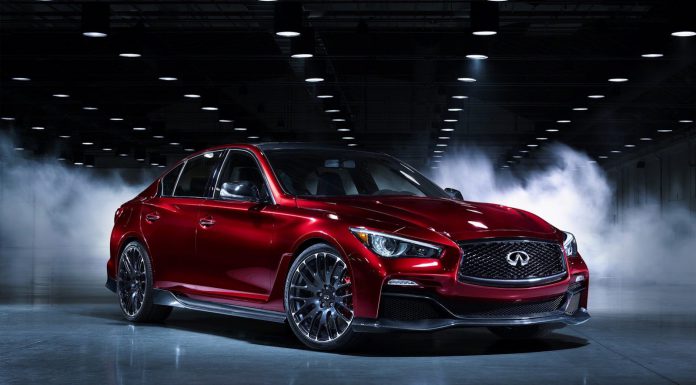 At the ongoing Detroit Motor Show 2014, the incredible Infiniti Q50 Eau Rouge Concept has been introduced! While the car is still a concept, it does hint as a possible BMW M3 rival from the Japanese automaker.
While details about the Infiniti Q50 Eau Rouge Concept's engine have yet to be revealed, it is expected to be a heavily revised and upgraded variant of the twin-turbocharged 3.7-liter V6 engine of the standard Q50. However, in Eau Rouge specification (named after the famous corner at Spa-Francorchamps), that powerplant could deliver upwards of 500 hp and 600 lb-ft of torque! If that were true, then it would lift it will above the 431 hp of the new 2014 BMW M3 and the next-gen C63 AMG expected to deliver around 450 hp!
When discussing the engine, Infiniti boss Johan de Nysschen said, "Through our various alliance partners we have access to a range of engines featuring this performance capability which, with a fair amount of engineering effort, can be developed to exhibit Infiniti character and accommodated within the Q50 engine bay. The engine we are evaluating for the Q50 Eau Rouge is a big personality, V-cylinder engine with forced induction. I think our engineers have been waiting for a project like this."
Clearly benefitting from its ongoing involvement with the Red Bull Formula One team, the Infiniti Q50 Eau Rouge Concept features a host of new aerodynamic components giving it extra downforce. Some of the most notable new aerodynamic parts include a prominent carbon fiber front splitter as well as side skirts and a clean rear diffuser made out of the lightweight material. What's more, the roof of the Q50 Eau Rouge Concept is also carbon fiber, like the new M3's, helping to lower the centre of gravity. All up, the visual modifications make for a 20 mm wider track both front and rear.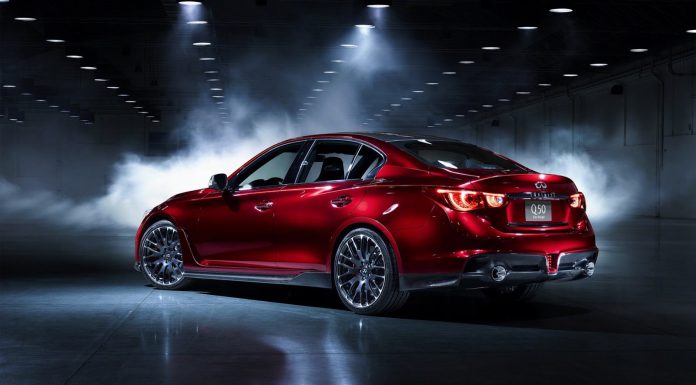 The visual changes have been so extensive in fact that Infiniti claims only the front doors and pillars are borrowed from the regular Infiniti Q50. Additional modifications include massive black 21-inch forged alloy wheels, a rear brake light inspired by those used in Formula One and also featured on the Ferrari F12 and LaFerrari, as well as a new dual exhaust system.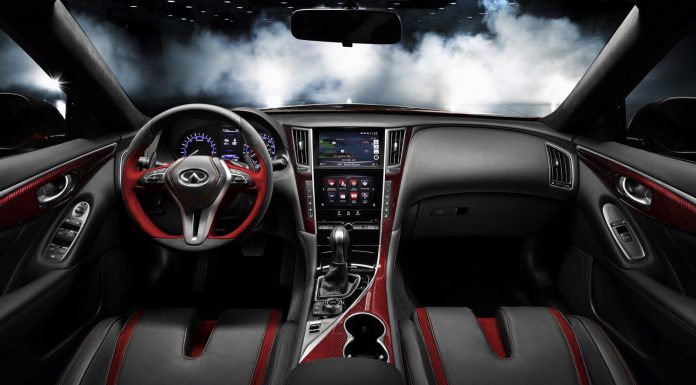 Completing the changes for the Infiniti Q50 Eau Rouge Concept include a host of carbon fiber accents in the cabin as well as a new sports steering wheel equipped with the now obligatory paddle shifters.
There's no word on whether or not the Infiniti Q50 Eau Rouge will reach production, but if it does, expect it to take the fight to the M3, C63 AMG, RS4 and the next IS-F!