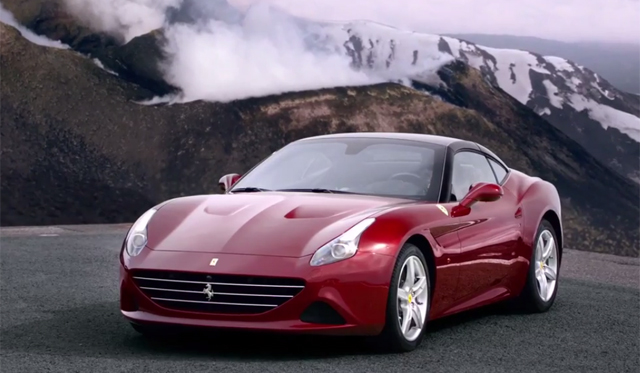 The official video for the brand new 2015 Ferrari California T has just been released. As you would expect from Ferrari, the clip focuses purely on the driving experience of the California T through some truly incredible mountain roads and through classically styled cities. Consequently, it is clear just how dynamically capable the new California T really is.
[youtube]https://www.youtube.com/watch?v=qNZKmLMbTk0#t=39[/youtube]
The Ferrari California T is the first Ferrari since the legendary Ferrari F40 to feature a turbocharged engine. The new twin-turbocharged 3.8-liter V8 engine sits atop a heavily reworked chassis. It retains the aluminium construction, yet 60 percent of the components are brand new. Power is rated at 552 hp from 7,500 rpm and a staggering 755 Nm of torque at 4,750 rpm. This is around 20 hp and 100 Nm of torque more than the Maserati Quattroporte GTS which also uses the same engine.
As a result, the new California T can launch from a standstill to 100 km/h in a mere 3.6 seconds. The car then continues to accelerate to its top speed of 316 km/h.
Also new for the second-generation California is a new dual-clutch F1 transmission courtesy of Getrag. Providing seamless shifts, this gearbox will inevitably be much better than the system from the outgoing California and is set to be world class. Other performance components include a new carbon ceramic braking system from Brembo as well as sticky Bridgestone tyres as standard.