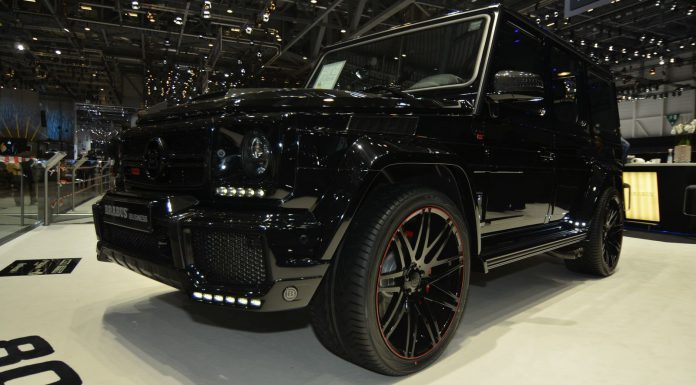 The Brabus G 65 800 iBusiness is on display at the Geneva Motor Show 2014. The Brabus G 65 800 iBusiness is a Mercedes-Benz G 65 AMG on a double-dose of steroids. Bodywork, interior and engine receive extensive updates. We took a closer look at this monster!
Brabus iBusiness cars focus on a special blend of technology raw power. The Brabus G 65 800 iBusiness is therefore no different! Owners will enjoy multimedia content such as music, movies or games using an iPad mini, Mac mini, iPod touch and Apple TV on the move. The car comes fitted with its own Mac Mini computer with Apple TV and a power amp to provide enough power. These components are hidden at the rear of the vehicle.
The 6.0-liter V12 Biturbo engine gets the Brabus 800 treatment. The Brabus G 65 800 iBusiness produces 800 hp of power at as low as 5,500 rpm and an even more impressive peak torque of 1,420 Nm on tap already from 2,100 rpm (although Brabus limit this to1,100 Nm). The car sprints from 0-100 km/h in just 4.2 seconds and on to an electronically limited 250 km/h top speed. It comes fitted with a seven-speed automatic transmission and permanent all wheel drive.
The Widestar widebody includes powerful fender flares adding 12 cm to the width, a Brabus front spoiler, LED daytime running lights on the left and right-hand side and an illuminated Brabus logo on either side. Brabus have fitted this car with its own Xenon headlights and a new radiator grille. There is also a Brabus rear bumper, two LED backup and fog lights and a roof spoiler with integrated LED brake light.

For full details of the Brabus G 65 800 iBusiness, take a look at our earlier article. For full coverage of the Geneva Motor Show 2014, take a look at our dedicated news channel!