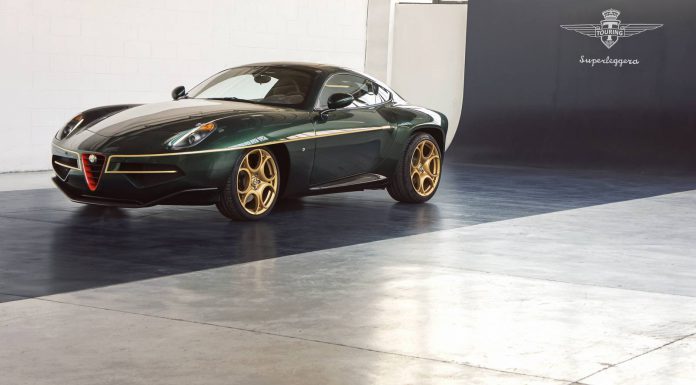 Coach-builders Touring Superleggera won the Design Award for Concept Cars and Prototypes with its spectacular Alfa Romeo Disco Volante. As of yet all the examples we have seen have been finished in the tradition Alfa red or, more recently, the grey example that was present at TopGears studio last week.
Here we have an example that is certainly not a subtle as the aforementioned cars, a dark green Disco Volante complement with gold wheels! Previous example have been showcased at the Geneva Motor Show for the past two years and Touring Superleggera will be doing the same again with this extraordinary example!
The Touring Superleggera Disco Volante was first unveiled at the Geneva Motor Show 2012 as a concept car, premiered at the Geneva Motor Show 2013 in production spec and is based off the Alfa Romeo 8C Competizione.

Due to these underpinnings, the Touring Superleggera Disco Volante features the same V8 engine as the Alfa Romeo 8C Competizione and is therefore produces 450hp and 480Nm of torque at 4,750rpm. It drives just as well as it looks!