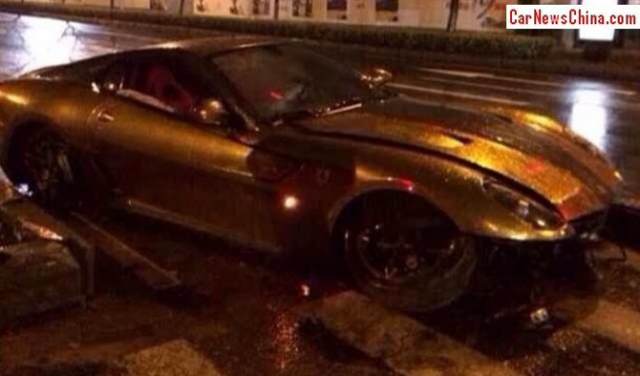 A unique, gold and black Ferrari 599 GTB has unfortunately been involved in a heavy crash in the city of Nanjing in the Jiangsu Province of China. With the roads at the time of the crash being wet, it is quite apparent just what went wrong.
It is believed that the Ferrari 599 GTB driver was attempting to overtake a slower vehicle. However, most likely after accelerating to get past, the rear end kicked out, sending the expensive Italian supercar spinning across the road and into the median-strip barrier. As the following images show, all four wheels are damaged suggesting that it bounced against the barrier at least three of four times.
In addition to the damage to the wheels, the front bumper has been torn from the car with the hood also receiving some minor damage up front. With such hefty damage including broken suspension components, it is inevitable that the owner will be facing quite an expensive repair bill!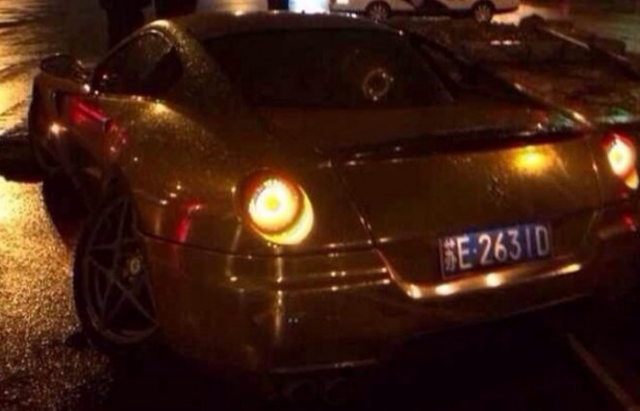 Thankfully the engine has likely remained undamaged, and what an engine it is. It displaces 6.0-liters, has 12-cylinder and manages to deliver an impressive 612 hp and 608 Nm in base specification. However, in 599 GTO specification, that power figure rises to 661 hp at 8,250 rpm and 460 lb-ft of torque at 6,500 rpm.
[Via Car News China]