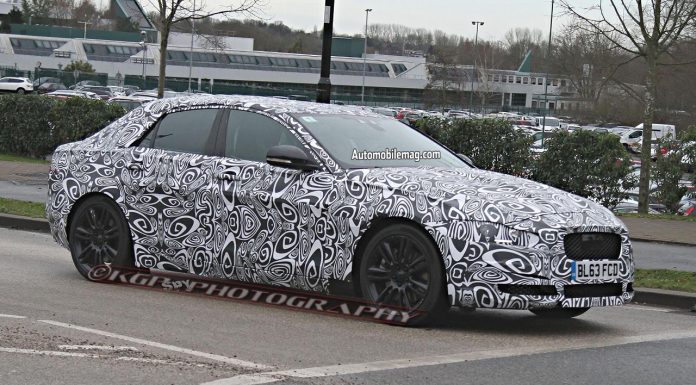 In recent months, a few Jaguar XS sedan prototypes have been spied testing disguised as its bigger brother, the XF. Now, the first spyshots have emerged of the new Jaguar XS in its own body undergoing testing in the United Kingdom.
Even though the car in the following spy pics is camouflaged from head to toe, a few key design elements are apparent. First and foremost, we can see that the Jaguar XS will receive a slightly smaller oval front grille than the XF. Additionally, it appears to have sharper lines over the front wheels with a prominent and quite aggressive bulge stretching across the doors.
Additionally, this prototype features slimmer air intakes at the base of the front bumper along with slightly revised headlights. Towards the rear, the prototype features very sharp C-pillars and a rear window design. However, these sharp lines are likely just the result of some extra padding and disguise back there.
Recently, Jaguar commented that a concept variant of the XS sedan is pinned for a debut at the Paris Motor Show in October. Then, the Jaguar XS will have its worldwide production form debut at the Geneva Motor Show 2015 in March the following year. Following on from the car's Geneva debut, sales and deliveries will start later in 2015.
As expected, the Jaguar XS will ride on the same intelligent aluminium platform which debuted a couple of months ago under the Jaguar C-X17 Sports Crossover Concept.
Under the hood, the 2016 Jaguar XS will be offered with the some of the engines present in the XF as well as the Jaguar F-Type. However, it'll also be available with a turbocharged 2.0-liter four-cylinder powertrain developing 240 hp with a 380 hp, 3.0-liter supercharged V6 set to be the range-topping engine.
Rear-wheel drive will be standard in the 2016 Jaguar XS but an all-wheel drive system will be offered at additional costs. As a reminder, the Jaguar XS will rival the BMW 3-Series, Audi A4 and Mercedes-Benz C-Class.
[Via Automobile]