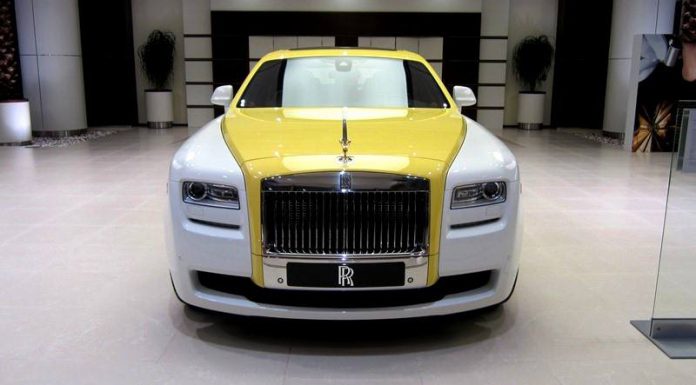 The Rolls-Royce Ghost is on the market for a few years now and has proved to be a very successful car, one that is synonymous with class and heritage but with a much younger audience and feel. The Rolls-Royce Ghost has a 6.6 liter, twin-turbo V12 engine which produces 563hp. At just over 190,000 Euro its a lot cheaper than its bigger brother, the Phantom and that has attracted a lot of new and younger customers to the British luxury marque.
The car has been particularly strong in Asia and the Middle-East where customers often like their cars to stand out a little more rather than the subtle colours that prove popular in Europe and the USA.
That brings us onto the car you see photographed here, a Ghost from Rolls-ROyca Cars, Abu Dhabi Motors. The car has been specced in English white, a very ordinary and subtle colour, but the second colour is rather brave. The bonnet, roof and boot of the car have been finished in Semaphore Yellow and the combination means that this Ghost certainly will not be missed on the streets of Abu Dhabi!