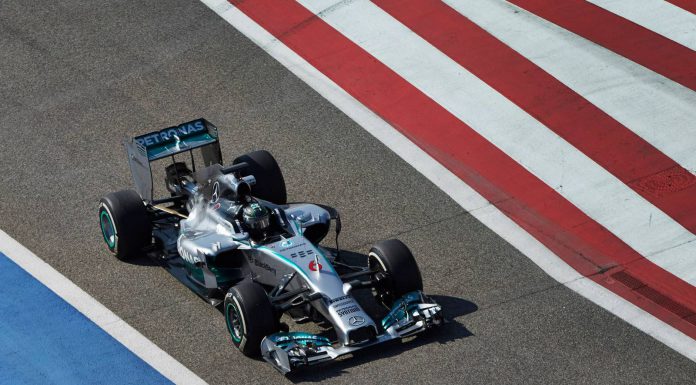 Mercedes has completed the Bahrain pre-season testing today by posting the fastest time on the timesheet for the second day in a row. After doing the same yesterday with Lewis Hamilton yesterday, Nico Rosberg set a best time of 1m 33.283s (the fastest in those four days) and managed to do 89 laps in total. The Bahrain test has proven that Mercedes powered cars are more than ready for the season premiere in Melbourne with both McLaren and Williams F1 teams also setting relatively fast times during the four days.
Jenson Button came in second today in the McLaren MP4-29 after setting a time of 1m 34.957s and a total 66 laps. Button was also second yesterday not to mention he also recorded the highest number of laps at 103. Third today was Kimi Raikkonen driving for Ferrari. He set a time of 1m 36.718s and a total of 82 laps, the team had some technical problems yesterday which saw them drop in positions but were able to recover that today.
The Williams team was fourth today in the hands of rookie driver Felipe Nasr who did a time of 1m 37.569s and a total of 87 laps. Lotus who missed the Jerez opening test set the fifth fastest time of the day with Pastor Maldonado on the wheel. Sergio Perez driving for Force India came in sixth on the timesheet, while Red Bull took a frustrating seventh position. They suffered a software problem, a mechanical problem and some damage to the car that saw them manage only 15 laps.
Red Bull's sister team, Scuderia Toro Rosso and also another Renault powered car also faced the same problems with Jean-Eric Vergne at the wheel, he managed to do only 19 laps. Caterham, another Renault powered car, also suffered technical problems. They had two cars on the track today driven by Kamui Kobayashi and Marcus Ericsson who finished 9th and 10th. Sauber and Marussia did not record any times today also as a result of technical issues.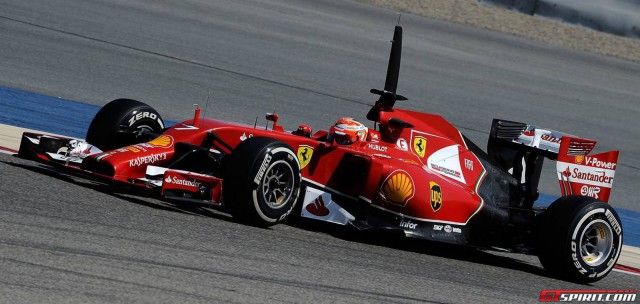 Quotes:
Nico Rosberg – Mercedes
This morning we were able to try some qualifying practice runs which felt good, meaning I could attack the lap a bit as I found a good balance. Later in the day we did a race simulation, which was crucial to learn all the new things in the car. There was a lot of feedback from the engineers, so my head was full of information!
Kimi Raikkonen – Ferrari
We have managed to improve some things compared to Jerez and we continue to understand more about the behaviour of the car. We tried various solutions to try and be as well prepared as possible for next week's test and for the start of the season. Hitting the barrier? I spun on the kerb at the exit of turn 4, these things can happen! Luckily, it was right at the end of the day, I'm only sorry because it means the team now has more work to do.
Felipe Nasr – Williams
I am very happy to have driven a Formula One car for the first time, and reaching 87 laps made it also a very productive day. There were so many things going through my head before sitting in the car. It was what I was expecting though: very different to any other car I have ever driven with the amount of downforce, brake efficiency and the power. It was a learning process for me, but I was giving feedback to the engineers all day and I think we found some good things. I'm so pleased to have had this opportunity and I am now looking forward to the next time.