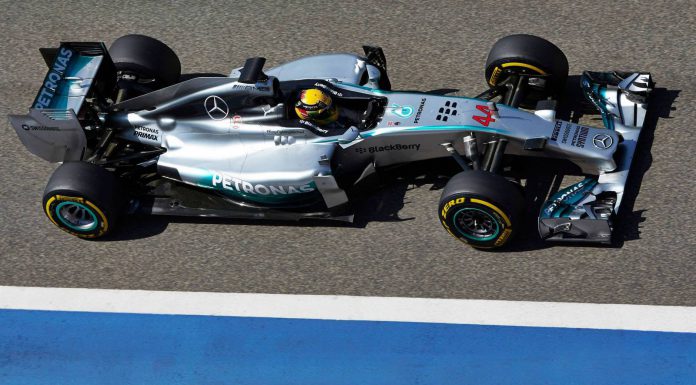 It was a beautiful day at the Bahrain International Circuit for the Mercedes powered cars during the third day of the pre-season testing. Lewis Hamilton set the fastest time of the day putting Mercedes-Petronas in the lead. Jenson Button set the second fastest time in his Mercedes powered McLaren MP4-29 while Felipe Massa closed in third with the Mercedes powered Williams FW36.
Button completed a total of 103 laps, more than any other racer today. McLaren had topped the sheets on day 2 with Magnussen at the wheel, today the car showed consistency which was accounted for by the numerous laps it covered. Esteban Gutierrez set the fourth fastest time of the day for Sauber while Sergio Perez came in fifth driving for Force India which had set the fastest time on the first day in Bahrain.
Ferrari faced a rough day today with Kimi Raikkonen at the wheel. After just 12 laps, the car developed issues with the data connection. This required them to recalibrate the system and as a result of this interruption, Kimi went ahead to set the sixth fastest time of the day. Marussia managed to do a few laps before succumbing to technical problems in the MR03's Ferrari engine.
Tomorrow will be the last day of testing, be sure to check back here for more results and photos!
Drivers' Quotes:
Lewis Hamilton – Mercedes
It was nice to be able to put together a good lap today because generally speaking there seems to be less grip available than last year," said a pleased Hamilton. The car seems to be responding well to my style of driving and the power unit is looking promising, with all of the Mercedes-powered team completing good mileage. We won't know where we are for definite until we get to Melbourne so we're just continuing to focus on our run programmes, keep positive and look forward; the team has done a great job to get where we are today so we just need to keep that going.
Kimi Raikkonen – Ferrari
We didn't do as many kilometres as we had been hoping for because even though the problem was a minor one, it still took a while to fix. It shows how complicated these new systems are, but in the afternoon we managed to run consistently. It was useful in terms of getting used to the environment inside the cockpit after the Jerez test and to check some settings relating to the balance of the car.
Unofficial Thursday test times from Bahrain
1. Lewis Hamilton, Mercedes, 1m34.263s, 67 laps
2. Jenson Button, McLaren, 1m34.976s, 103 laps
3. Felipe Massa, Williams, 1m37.066s, 60 laps
4. Esteban Gutierrez, Sauber, 1m37.180s, 96 laps
5. Sergio Perez, Force India, 1m37.367s, 57 laps
6. Kimi Raikkonen, Ferrari, 1m37.476s, 44 laps
7. Daniil Kvyat, Toro Rosso, 1m38.974s, 57 laps
8. Pastor Maldonado, Lotus, 1m39.642s, 26 laps
9. Daniel Ricciardo, Red Bull, 1m40.781s, 28 laps
10. Marcus Ericsson, Caterham, 1m42.130s, 98 laps
11. Max Chilton, Marussia, 1m46.672s, 4 laps
12. Valtteri Bottas, Williams, no time, 55 laps