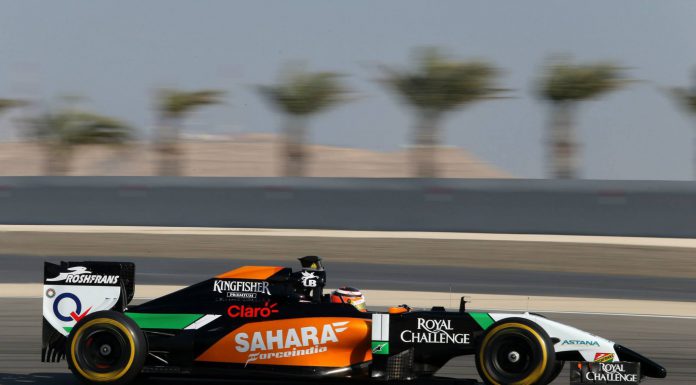 The second 2014 Formula 1 pre-season testing kicked off yesterday at the Bahrain International Circuit in Sakhir. Nico Hulkenberg set the fastest time for Sahara Force India team in the Mercedes powered VJM07 car. Hulkenberg set a best time of 1m36.880s after doing 78 laps, a second faster than Ferrari's Fernando Alonso who was second on the timesheet with Mercedes' Lewis Hamilton coming third.
Kevin Magnussen finished 4th in the McLaren MP4-29 ahead of Red Bull's Sebastian Vettel who set the fifth fastest time in the Renault-powered RB10. During the first test in Jerez Spain, Red Bull managed to do only 21 laps after they were hit by technical problems; in Bahrain, the team faced a similar situation where they managed to do only 14 laps.
The Marussia team and the Williams F1 team posted no times having suffered similar technical issues. As for the Williams Team, the exact problem was caused by a fuel system failure. They replaced some components and removed the power unit to investigate the fuel cell losing more time before doing only 5 laps. Valtteri Bottas takes over from Felipe Massa today for the Williams Team, who set the fastest time in Jerez during the first pre-season testing.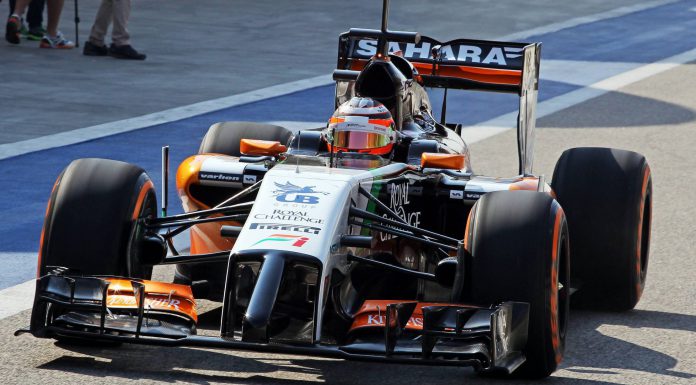 Unofficial Wednesday test times from Bahrain:
1. Nico Hulkenberg, Force India, 1m36.880s, 78 laps
2. Fernando Alonso, Ferrari, 1m37.879s, 64 laps
3. Lewis Hamilton, Mercedes, 1m37.908s, 74 laps
4. Kevin Magnussen, McLaren, 1m38.295s, 81 laps
5. Sebastian Vettel, Red Bull, 1m40.224s, 14 laps
6. Adrian Sutil, Sauber, 1m40.443s, 82 laps
7. Robin Frijns, Caterham, 1m42.534s, 68 laps
8. Daniil Kvyat, Toro Rosso, 1m44.346s, 5 laps
9. Romain Grosjean, Lotus, 1m44.832s, 8 laps
10. Felipe Massa, Williams, no time, 5 laps
11. Jules Bianchi, Marussia, no time, 3 laps
Drivers' Quotes:
Nico Hulkenberg – Force India
A very positive and satisfying day, we had a busy programme and we learned a lot. Time in the car is very valuable at the moment and so it feels good to cover so many laps and even complete two long runs at the end of the day. That gave me a chance to see how the car behaves and to start getting a feel for it, which was not something I was able to do in Jerez.
Lewis Hamilton – Mercedes Petronas
Today was another good test of the car to see if any issues came up – we had a small issue with the brakes at the end but were still able to achieve a lot of laps today. We're not aiming to be top of the timesheets at the moment, it's more about ticking the reliability boxes, but we can be happy with where we are before the halfway point of the pre-season tests.
Felipe Massa – Williams Team
It was a difficult day. It was frustrating for me but also for the whole team as we all wanted to get lots of laps on the board today. We had a few issues with the car which we are investigating and aim to solve for tomorrow and the following days. We know the most important thing is to get mileage on the car, so we hope to do that and get everything we want from tomorrow, and through until the end of next week.