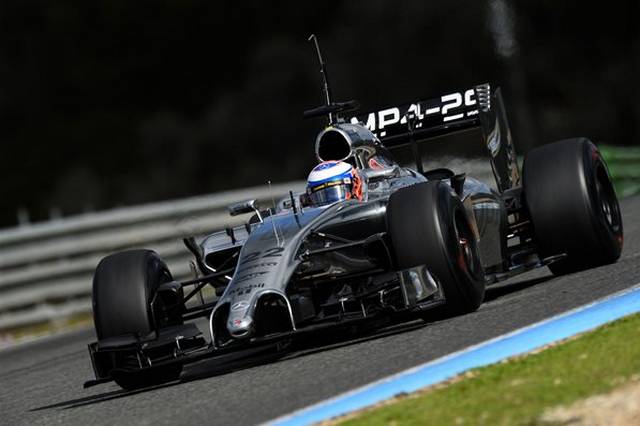 The first round of 2014 F1 pre-season testing came to an end last Friday at the Jerez Circuit in Spain. The teams have now retreated back to their camps with a variety of results to facilitate their preparations for the forthcoming season. With the new regulations in place, Jerez was more of a learning process as all sorts of technical issues emerged over the course of the four day period. However, despite the numerous incidents, a few teams managed to stay atop among them being McLaren who led for two consecutive days.
Ferrari started the test days by setting the fastest lap time with Kimi Raikkonen on the wheel of the new Ferrari F14 T. It was a tough day for all teams. Some like Marussia missed the first day due to technical issues, while the Renault powered cars such as those from Red Bull Racing were forced to retire due to mechanical technicalities. Raikkonen managed to do 31 laps, the highest number of laps for that day, while Lewis Hamilton put his Mercedes on the second spot even after crashing his car into a barrier.
Tuesday's Results:
1. Kimi Raikkonen, Ferrari, 1m 27.104s, 31 laps
2. Lewis Hamilton, Mercedes , 1m 27.820s, 18 laps
3. Valtteri Bottas, Williams, 1m 30.082s, 7 laps
4. Sergio Perez, Force India, 1m 33.161s, 11 laps
5. Jean-Eric Vergne, Toro Rosso, 1m 36.530s, 15 laps
6. Esteban Gutierrez, Sauber, 1m 42.257s, 7 laps
7. Sebastian Vettel , Red Bull, No time, 3 laps
8. Marcus Ericsson, Caterham, No time, 1 lap
Wednesday and Thursday saw McLaren top the sheets, in fact they had the fastest lap times in the four day test period. The team was frustrated on Tuesday but Jenson Button managed to overcome that by setting the fastest time under wet and dry conditions. Pirelli made sure the track was artificially wet in the morning. Even after overnight rain, Button was able to not only set the fastest time but also recorded 43 laps in the new McLaren MP4-29.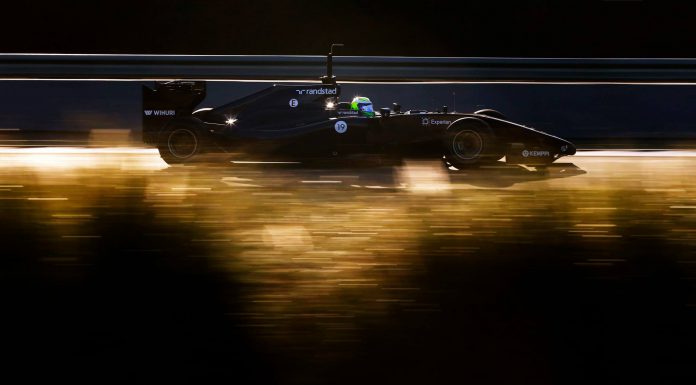 On Thursday, McLaren surprised again with 21 year old Danish rookie Kevin Magnussen who set the fastest time and recorded 52 laps. Meanwhile, the newly Mercedes powered Williams FW36 with Felipe Massa at the wheel was also showing a lot of prowess, it managed to finish second ahead of Hamilton in the Mercedes.
1. Kevin Magnussen, McLaren, 1m 23.276s, 52 laps
2. Felipe Massa, Williams, 1m 23.700s, 47 laps
3. Lewis Hamilton, Mercedes, 1m 23.952s, 62 laps
4. Jenson Button, McLaren, 1m 25.030s, 40 laps
5. Fernando Alonso, Ferrari, 1m 25.495s, 58 laps
6. Nico Hulkenberg, Force India, 1m 26.096s, 17 laps
7. Jean-Eric Vergne, Toro Rosso, 1m 29.915s, 30 laps
8. Adrian Sutil, Sauber, 1m 30.161s, 34 laps
9. Robin Frijns, Caterham, No time, 10 laps
10. Max Chilton, Marussia, No time, 5 laps
11. Daniel Ricciardo, Red Bull, No time, 3 laps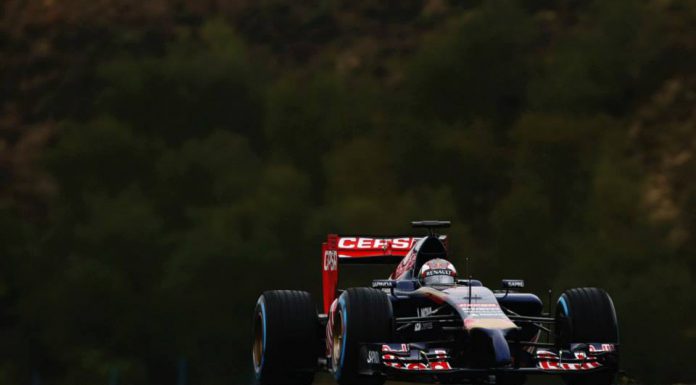 Friday was the last day. Under rainy conditions the Williams team pushed their quest one step ahead and by this they were fastest on this last day. Still in the hands of Felipe Massa, the Williams FW36 was able to run 86 laps, Massa was able to hold off former teammate Fernando Alonso in his Ferrari F14 T who finished second. Daniel Juncadella driving for Force India managed to finish third.
1. Felipe Massa, Williams, 1m 28.229s, 86 laps
2. Fernando Alonso, Ferrari, 1m 29.145s, 115 laps
3. Daniel Juncadella, Force India, 1m 29.457s, 81 laps
4. Kevin Magnussen, McLaren, 1m 30.806s, 110 laps
5. Lewis Hamilton, Mercedes, 1m 30.822s, 41 laps
6. Jules Bianchi, Marussia, 1m 32.222s, 25 laps
7. Adrian Sutil, Sauber, 1m 36.571s, 69 laps
8. Nico Rosberg, Mercedes, 1m 36.951s 91 laps
9. Kamui Kobayashi, Caterham, 1m 43.193s, 54 laps
10. Daniil Kvyat, Toro Rosso, 1m 44.016s, 9 laps
11. Daniel Ricciardo, Red Bull, 1m 45.374s, 7 laps
F1 Champions Red Bull pulled out of the tests on Friday morning after numerous frustrations born out of their technical problems. They only managed 21 laps over those four days. Next, the teams will head for Bahrain in another test before the season begins with the Australian Grand Prix in six weeks time.